Four more UK coronavirus cases as PM says disease will get 'more significant'
2 March 2020, 12:40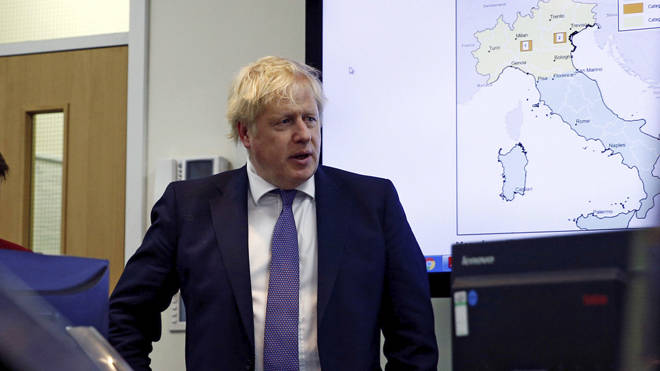 Four more UK coronavirus cases were confirmed today bringing the total number of infected to 39.
It comes after Boris Johnson said measures to tackle coronavirus such as closing schools and banning mass gatherings would only be taken upon scientific advice.
Speaking after a Cobra meeting on Monday, he said: "The most important thing for people to understand is that (measures) will be guided by scientific advice. All four nations of the UK and the chief medical officers are involved in this and they will be helping us to take key decisions on when and how to take protective steps."
Meanwhile, Nicola Sturgeon has warned 50-80 per cent of the population of Scotland could be hit by the Covid-19 infection.
A clinician at Mount Vernon Cancer Centre in Northwood, Middlesex, had been confirmed positive but has since tested negative, East and North Hertfordshire NHS Trust said.
A spokeswoman for the Department of Health confirmed the total figure for the UK had dropped to 39 as a result.
Read more: UK's 'four stages' strategy to tackle coronavirus - explained
Read more: Family self-isolated due to 'people's fears' over coronavirus
The PM added: "We cannot forget that the single most useful thing that we can all do to support the NHS is to wash our hands, two times to Happy Birthday with hot water.
"It's very important that people should continue (doing) that and they should go about business as usual."
Downing Street said a UK-wide action plan to tackle coronavirus had been agreed at the Cobra meeting and it will be published tomorrow.
The Prime Minister's official spokesman defended the Government's response to the crisis, telling reporters: "We have been taking extensive steps led by the best medical and scientific advice since the very beginning of this outbreak."
Boris Johnson was following official advice to regularly wash his hands with hot soapy water for 20 seconds, the spokesman said.
Read more: Coronavirus UK: Do surgical face masks work to avoid virus symptoms?
Mr Johnson said the spread of the coronavirus was "likely" to become "more significant" for the UK in the coming days.
He said: "We have also agreed a plan so that if and when it starts to spread, as I'm afraid it looks likely it will, we are in a position to take the steps necessary to... contain the spread of the disease as far as we can, and to protect the most vulnerable.
"We will be announcing that plan not just tomorrow but in the days and weeks ahead as the thing develops."
Read more: Coronavirus: What is a pandemic and how is one declared?
Scotland's First Minister Nicola Sturgeon has said the country is in the "containment phases" of dealing with coronavirus.
She spoke after taking part in the UK Government's Cobra meeting.
Speaking at St Andrew's House in Edinburgh alongside Health Secretary Jeane Freeman and Scotland's Chief Medical Officer Dr Catherine Calderwood, she said Scotland was not at the stage of having to cancel major events.
She told reporters the peak of the outbreak in Scotland thought to be in 2-3 months time, with evidence suggesting 50-80 per cent of the population affected by Covid-19.
Read more: 'Don't die, please buy' Glasgow newsagent sells out entire stock of coronavirus face masks
Nicola Sturgeon says a 'four nation' action plan on the Coronavirus has been signed off during Cobra meeting and will be published tomorrow.

She says we're expecting a significant outbreak in Scotland in the coming days and weeks @LBC

— Fraser Knight (@Fraser_Knight) March 2, 2020
She said: "We are not at that stage yet and decisions about if and when we reach that stage and what the implications will be will be guided very firmly by the scientific advice the four governments are receiving."
The First Minister said the Scottish Government is expecting a "significant outbreak of coronavirus" after the first case in Scotland was diagnosed on Sunday.
"We would expect at least 80% of people to have very mild illness that they will recover quickly from and a very small number of people that need hospitalisation."
Read more: Health Secretary Matt Hancock: 'If coronavirus becomes a pandemic we can't stop it coming to UK'
She said: "We would expect to see further cases confirmed in the days to come."
She added that the Government is "planning for the likelihood of a significant outbreak of coronavirus".
The patient who was diagnosed with the Covid-19 virus is "not seriously ill at this stage", Ms Sturgeon revealed but is in hospital as a precautionary measure.
"That is not necessarily going to be the case going forward for future cases," she said, explaining that people will be told to self-isolate "unless there is a clinical need for them to be in hospital".