Coronavirus: Response to outbreak moving into its second "delay" phase
5 March 2020, 09:32
England's Chief Medical Officer has said the response to coronavirus is already moving into its second "delay" phase.
Professor Chris Whitty told MPs on Thursday it was necessary to be "realistic," and that with so many outbreaks worldwide, prospects of containing the virus now seemed "pretty optimistic".
He said by moving into the second phase after trying to contain the illness, the UK would attempt to delay the date of the number of cases reaching its peak level.
Citing three benefits of the phase, Mr Whitty said it could push back to a date where the NHS would be under less pressure from the winter months, and would also give researchers more time to learn about the illness.
He noted there could also be a "seasonal element" to the flu-like virus, and said: "If you move into spring and summer, the natural rate of transmission may go down."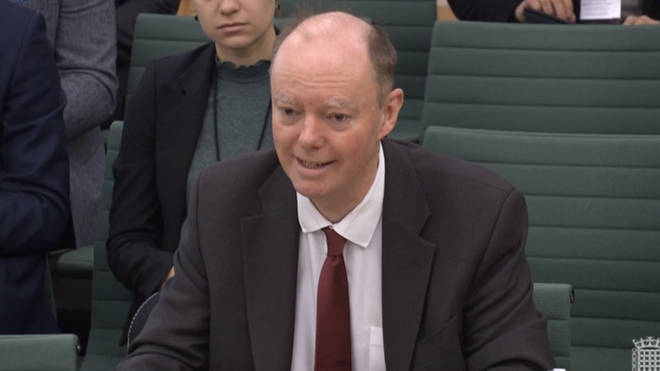 READ MORE: Airline Flybe collapses claiming coronavirus 'made a difficult situation worse'
Mr Whitty, the UK's top doctor, made the comments as he answered questions from the Commons' Health and Social Care Committee on Thursday.
He later admitted there had been a "communications fumble" over an earlier announcement that the Department of Health and Social Care would cease releasing geographical information about newly-confirmed cases.
"We are intending to provide geographical information - in fact, in the medium term we will provide a lot more information with maps and other things, with a proper dashboard a we gradually move into a phase where there are many more cases," he said.
Washing hands is 'key'
Moving to discuss the transmission of the virus, Mr Whitty stressed that washing hands was "really the key" to preventing infection.
There is "some risk in transmission" from touching surfaces for up to 72 hours, but this risk deteriorates over time from the moment an infected person has also touched it.
READ MORE: Parliament could shut for months as UK virus cases rise to 90
But, as the virus is believed to have respiratory transmission rather than touch, Mr Whitty said it is what you do with your hands after touching a surface that matters most.
He said: "Just touching [a surface] will not give you the virus," adding that someone would be more likely to contract the illness "if you touch [the surface], then touch your face having not washed your hands in between."
"So, if you go on the Tube and touch the rail, that's fine, but just be aware of what you do with your hands - don't touch your face, wash your hands, and then you can do what you like."
School closures 'less effective' than in flu cases
When asked about the prospect of closing schools as a public health measure, Mr Whitty said it would ultimately be up to the government, but that he thought it would be a "less effective" measure on curbing COVID-19 than the flu.
He added: "We haven't yet got to a point where ministers have had a chance to look at the data and make a decision about whether it has a big enough effect really to be worth doing."
A total of 90 people have tested positive for COVID-19 in the UK after three more cases were confirmed in Scotland on Thursday.