Brits coming back from Spain will need to self-isolate as country removed from 'safe list'
25 July 2020, 18:59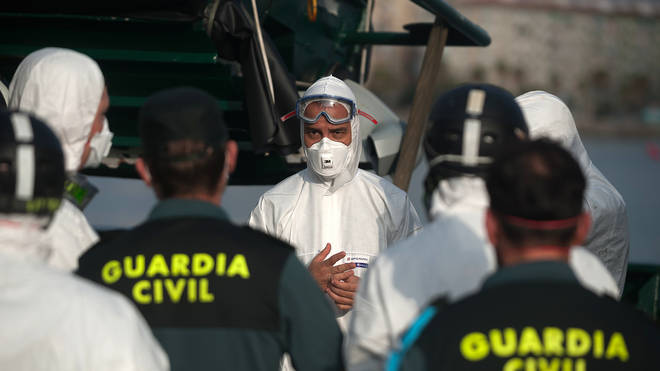 Spain has been removed from the Government's list of safe countries to travel to after a rise in Covid-19 cases, the Department for Transport has confirmed.
The decision means those coming back from Spain will have to self-isolate for two weeks upon their return to the UK from midnight tonight.
The quarantine applies to people returning to any of the four nations - England, Scotland, Wales and Northern Ireland.
A UK Government spokesman said: "The Joint Biosecurity Centre together with Public Health England have updated their coronavirus assessments of Spain based on the latest data.
"As a result, Spain has been removed from the lists of countries from which passengers arriving in England, Scotland, Wales and Northern Ireland are exempted from the need to self-isolate.
"Protecting public health is our absolute priority and we have taken this decision to limit any potential spread to the UK.
"We've always been clear that we would act immediately to remove a country where necessary.
"Both our list of quarantine exemptions and the FCO travel advice are being updated to reflect these latest risk assessments."
The move is likely to cast doubt on thousands of people's holiday plans as they weigh up the risk of travelling to Spain and the need to stay home for two weeks upon arriving back in Britain.
The Foreign and Commonwealth Office (FCO) advises people should avoid all but essential travel to mainland Spain. However, they exclude the Canary and Balearic islands.
But the Department for Transport (Dft) has announced that the "air-bridge" to Spain has been axed meaning anyone coming from Spanish territory - including any islands - will still have to self-isolate.
Several of Spain's regions have experienced a rise in new cases of coronavirus.
One month after lifting its lockdown, the country reported 922 new cases of Covid-19.
Its deputy chief of health emergencies has speculated that it could be a second wave.
Foreign Secretary Dominc Raab said the Government could did not apologise for the decision to re-introduce quarantine measures on Spain at short notice.
He told Sky News' Sophy Ridge On Sunday programme: "The cases in Spain, the data came we got was on the Friday, showed a big jump right across mainland Spain, that was then assessed yesterday afternoon and we took the decision as swiftly as we could.
"And we can't make apologies for doing so.
"We must be able to take swift, decisive action, particularly in relation to localised, or internationally in relation to Spain or a particular country, where we see we must take action.
"Otherwise, we risk re-infection into the UK, potentially a second wave here and then another lockdown.
"So yes, I understand it is disruptive for those going through this who are in Spain or have been considering going but we must though be able to take swift, decisive action to protect the UK because we've made such progress in getting the virus down and prevent the virus re-taking hold in the UK."
Dominic Raab, asked why the Government could not have given holidaymakers an earlier warning that Spain was being assessed for quarantine, said ministers had to be able to "gauge the data in real time".
He added: "If we suddenly say, 'we're not quite sure' and give vague advice, it would create more uncertainty.
"There is a cut-off with changes in rules and advice we give, so I appreciate that that's difficult and it can be disruptive.
"But it would be far worse to either muddy the waters or to hold back and delay from taking the measures when we need to take them.
"The reason this was taken at reasonably short-notice was the spike in Spain that we've responded to ... so it was the real-time response, the data we were getting from Spain (meant) we had to respond very swiftly."
Foreign Secretary Dominic Raab has said there is no guarantee other countries will not be removed from the Government's "safe list".
He said: "As we've found with Spain, we can't give a guarantee.
"All we can say is we've got this Joint Biosecurity Centre, we monitor the risk in real time, we take decisive swift action and so there is an element of uncertainty this summer if people go abroad.
"I'm not going to tell people what they should and shouldn't do, they should follow the advice, I'm going to be staying at home this summer."
The Foreign Secretary queried what benefit there would have been in using the "amber" category for Spain on the Government's so-called "traffic light system" for designating which countries are safe to travel to.
Currently, those in the green and amber category can be visited without quarantine restrictions, while those classed under "red" do require 14 days of isolation upon return to England.
Dominic Raab told Sophy Ridge: "I think with amber, what would we actually be saying?
"People want to know whether they can go, whether they should go or shouldn't and the system we've had in place - and we've had various crises we've had to deal before - is tailored to be able to give people clear and decisive advice."
He added: "We've always said, as we come through the lockdown, we would need to take targeted measures.
"If we can't do that, the risk is the virus gets back hold in the UK, the damage to the economy of a second lockdown and I think a blow to public confidence.
"So, yes, these measures are decisive and swift and, as a result of that, inconvenient for those going through them ... but they are absolutely necessary."
Holiday operator TUI announced it would cancel holidays to Spain in response to the announcement.
A spokesman said every customer already in the country will be "proactively contacted to discuss their options".
Tourists due to travel abroad have been warned they could be forced into quarantine on their return.
The announcement about the removal of a so-called "air bridge" with Spain comes only a day after a further five countries were added to the quarantine-free list for people travelling to England.
Anyone coming from Estonia, Latvia, Slovakia, Slovenia and St Vincent and the Grenadines will not be required to isolate for two weeks on arrival, the Government confirmed on Friday.
Popular holiday destinations including Portugal, Thailand and the United States remain notable absentees.
The Government said people should continue to check the Foreign and Commonwealth Office's travel advice and their insurance policies before embarking on any overseas travel.
Ministers had previously warned that travel corridors could be closed if coronavirus rates escalated in other nations.
Travellers, even those from exempt destinations, are still required to complete a passenger locator form when they arrive in the UK.
First Minister Nicola Sturgeon tweeted Scotland's response to the announcement.
She said the Scottish Government will also reimpose a 14-day quarantine.
Ms Sturgeon wrote: "Having reviewed the latest data earlier today, @scotgov is also reimposing 14 day quarantine for travellers returning from Spain.
"This reinforces the point that these matters are subject to change at short notice & so my advice is to be cautious about non-essential foreign travel."
Listen & subscribe: Global Player | Apple Podcasts | Google Podcasts | Spotify