80 firefighters tackle 'massive' bakery fire in Park Royal
23 July 2020, 19:16
Firefighters remain at the scene of a "massive fire" involving a bakery and a restaurant in Park Royal, west London.
London Fire Brigade (LFB) said 15 fire engines and around 80 firefighters were sent to the blaze on Minerva Road on Thursday evening.
The Brigade was called at 6.20pm on Thursday, with the fire under control by 3.41am on Friday.
LFB said firefighters will be damping down small pockets of fire throughout the day and fire investigators will start their work once they can gain access to the building.
Assistant Commissioner Graham Ellis said: "This is a severe, complex and highly visible fire with our 999 Control taking over 50 calls in the early stages.
"There was a lot of thick black smoke in the area and we ask local residents to close their doors and windows.
The lay out of the building and a ruptured gas main made firefighting difficult but firefighters worked throughout the night to bring it under control. Thankfully there are no reports of any injuries."
Metropolitan Police officers were at the location, which was blocked off, and could be heard shouting at people to "get back."
LBC reporter James Gooderson, who was also at the scene, said firefighters were using cranes to tackle the inferno.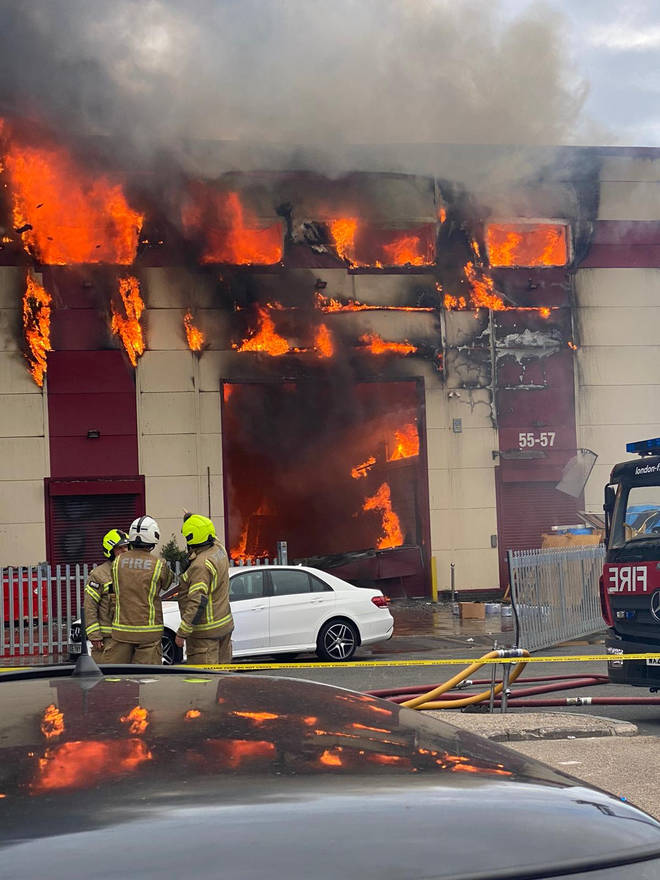 Chris Shaw, a 38-year-old sound and light engineer, said: "I live five minutes from there and I was at home and saw the plumes of smoke which were huge.
"Only 20 mins before I was at the post office next to the fire so I was worried about the owners so took a walk over to make sure they were safe."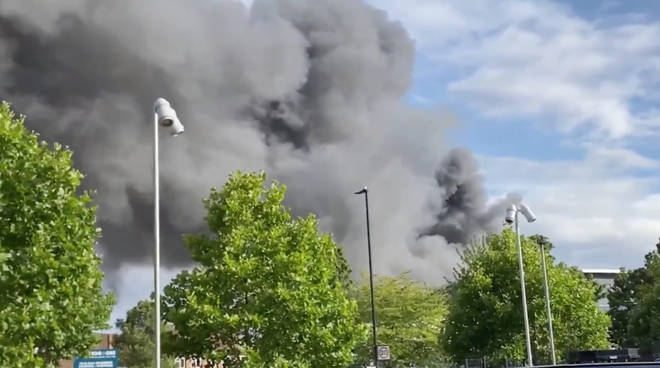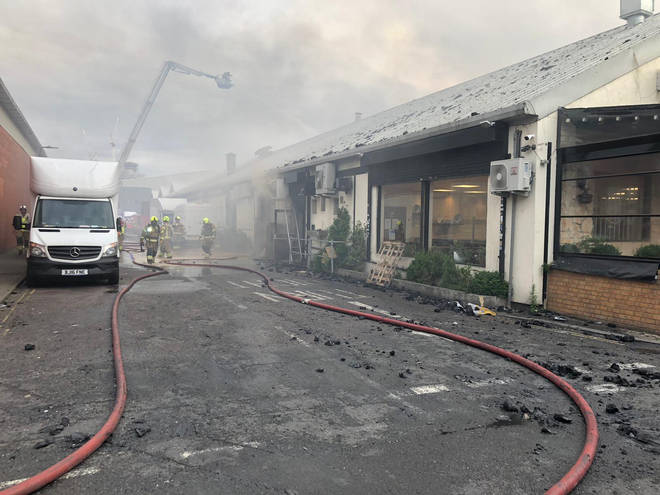 Social media users uploaded videos of the thick smoke, which can be seen across west London.
One said: "Massive warehouse fire in Park Royal, North Acton. Hoping everyone made it out in time. Firefighters are already on the scene."
Another wrote: "Hope no one is hurt."