DUP say their Brexit stance is unchanged as PM prepares for talks with the EU
13 September 2019, 10:02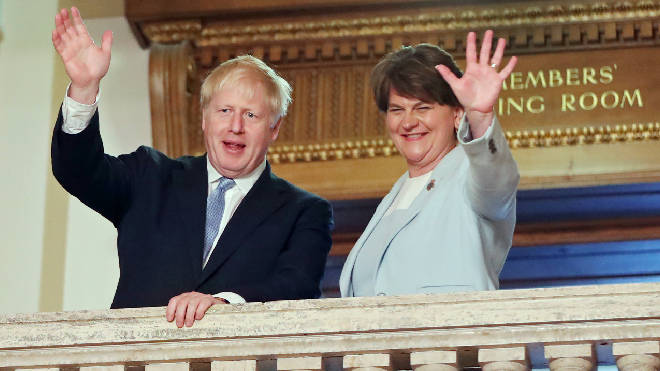 The DUP have hit back against claims made by a newspaper over their stance on Brexit, while Downing Street confirms the Prime Minister will hold talks with the European Commission president next week.
DUP Brexit spokesman Sammy Wilson has rejected reports that the party is softening its stance on Irish border backstop proposals.
He's told the press the claims were "untrue."
However, Mr Wilson said he detected a different tone in Brexit talks, stating: "I think that there was a different attitude in the talks between the Prime Minister and the Taoiseach at the beginning of the week and there seemed to be less rhetoric at those discussions from what there had been in the past.
"And I suppose that's progress."
Mr Wilson said: "We want to see a deal, the UK Government wants to see a deal.
"And I think that, as the deadline approaches, the Irish Government recognise the damage to their economy if they don't try and get some kind of arrangement with the UK."
UK must leave as one nation. We are keen to see a sensible deal but not one that divides the internal market of the UK. We will not support any arrangements that create a barrier to East West trade. Anonymous sources lead to nonsense stories. #frontpages

— Arlene Foster (@DUPleader) September 12, 2019
The Times reported that the DUP had agreed "to shift its red lines" as part of a new deal to replace the backstop and drop its objection to regulatory checks in the Irish Sea.
In reply DUP leader Arlene Foster tweeted that the UK must leave the EU as one nation, and dismissed stories from anonymous sources as "nonsense."
Meanwhile, Boris Johnson will travel to Luxembourg on Monday for Brexit talks with European Commission president Jean-Claude Juncker.
A Number 10 spokeswoman said: "The Prime Minister will be travelling to Luxembourg at lunchtime on Monday to hold talks with President Juncker on Brexit.
"And afterwards the Prime Minister will meet with Prime Minister Bettel of Luxembourg."
Click here to see our Brexit Live blog for the latest updates from Friday.