England's first ever inland surfing lagoon The Wave opens in Bristol
28 October 2019, 11:06
England's first ever inland surfing lagoon has opened in Bristol.
The Wave, a 200m long surfing pool, generates up to 1,000 waves per hour of varying sizes and shapes.
Waves range in size from 50cm to 1.8 metres high.
The facility has been in development for nine years from conception to its opening. It is aimed at bringing "the joy of surfing to people of all ages, backgrounds and abilities".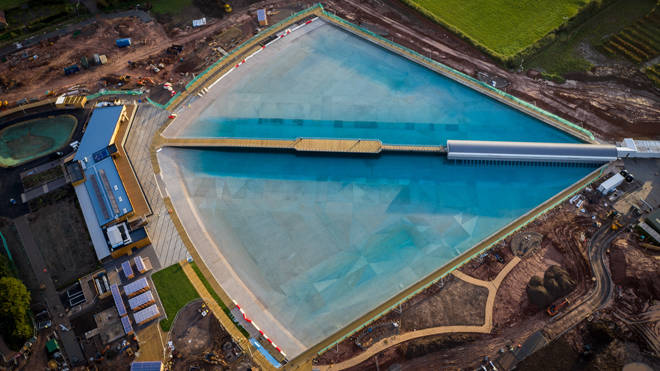 Founder Nick Hounsfield said: "Surfing makes you feel alive. No matter what level you are at, being in the water and having fun feels rejuvenating. We are all so busy in our day-to-day lives that we don't take that time out to step back, reset and simply 'be'.
"I found that surfing and being close to nature really worked for me and I wondered if there was a way of giving more people access to this feeling of wellbeing.
"I wanted to create a place where anyone and everyone can surf and on safe waves, all year round, and experience the many mental and physical health benefits it offers."
"It's about sharing incredible experiences with anyone who wants to enjoy them, in a naturally healthy space."
As well as the surfing lake, the centre offers food and drink, a surf shop, gardens, and camping.
The Wave is near Bristol on the M5. A one-hour surf costs £40-45 for an adult and £30-35 for a child, depending on the time of year and day of the week. A 90 minute session with coaching costs £55-60 for an adult and £45-50 for a child.
There are dedicated areas of the lake for beginner, intermediate and advanced surfers.