Enough is Enough: 60 per cent of people say police need more powers to deal with disruptive protests
3 February 2020, 07:20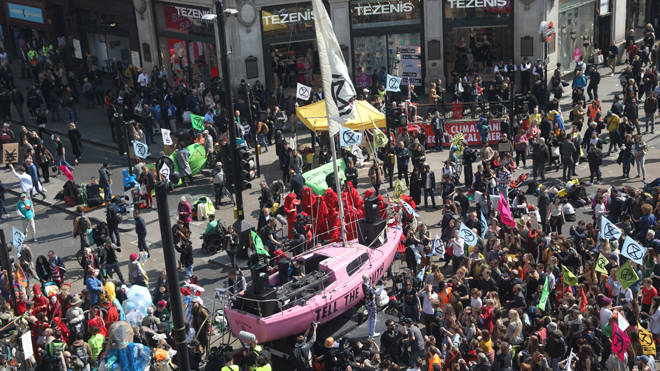 More than half of people believe the police need more powers to deal with disruptive protesters like Extinction Rebellion, an exclusive poll reveals today for Nick Ferrari's Enough is Enough campaign.
In October 2019, environmental campaign group Extinction Rebellion unleashed misery and disruption on London.
Figures obtained exclusively by LBC show there were 3,026 arrests during Extinction Rebellion protests across 2019.
During the course of their so-called "Autumn Uprising", Extinction Rebellion blocked major roads and landmarks in the heart of the London, including Trafalgar Square, Oxford Circus, and five bridges in the capital.
Some protesters even targeted the London Underground and DLR, climbing onto trains during the height of rush hour - putting themselves in danger and disrupting the lives of thousands of hard-working Londoners.
The poll for Nick Ferrari's Enough Is Enough campaign has revealed the public is tired of their behaviour and think police need to be able to do more.
Of the 1,513 people asked, 60 per cent said they believed the police need greater power, compared to just 28 per cent who believe officers already have enough tools at their disposal.
Water cannon are not deployed in the UK, and in 2015 then-Home Secretary Theresa May banned Boris Johnson from using them when he was London Mayor.
But now a poll suggests 58 per cent of the public think they should be used against disruptive protesters from groups like Extinction Rebellion, compared to just 26 per cent who don't think they should be used.
Sixty three per cent of those polled back the use of riot police, 67 back mounted police as another tactic, and 57 per cent of people said police should be allowed to Taser protesters.
However, only 44 per cent of the public want to see tear gas introduced into the police's arsenal, with even fewer (40 per cent) thinking rubber bullets should be used.
Just over a quarter of people polled (28 per cent) said they thought an armed police response would be justified in some circumstances.
Many protesters who were arrested and released during the course of last year's protests later returned to the picket lines.
Police even forked out £14,000 on vegan meals to feed those who wound up in a cell - all at the taxpayer's expense.
But 53 per cent of the British public believe there should be restrictions on allowing people to go back to the protests after being arrested, according to the data compiled for Nick Ferrari's campaign by pollsters Deltapoll.