Essex: Sinkhole swallows car and causes homes to be evacuated
10 February 2020, 12:09
Homes have been evacuated after a sinkhole opened up when a sewer collapsed in a street in Essex, swallowing a car.
Firefighters were called to Hatch Road, Pilgrims Hatch at 1.34an today to reports a road had collapsed.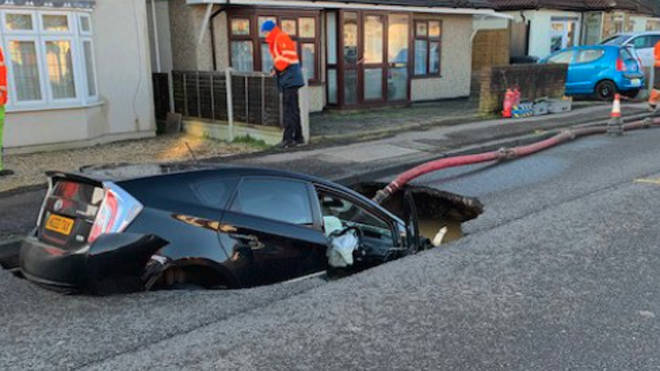 Firefighters who arrived at the scene found a car had crashed into a large opening in the road.
Six properties have been evacuated.
One resident, Lauren, told LBC News: "I woke up to a fiasco going on, fire engines and police everywhere and a car in the hole. "I don't want to get too close. It's quite worrying how it's just a big gaping hole actually." She said she was a "little bit worried, a bit shocked" at how close the hole is to her home.
Fire crews had made the scene safe by 3.53am, leaving the rest of the repair to utilities firms.
An Anglian Water spokesperson said, "We are currently onsite on Hatch Road, Pilgrims Hatch in Brentwood investigating a sink hole which has opened up in the road. We are working with other utilities (water and gas) plus the local police to assess if any of our pipes have been damaged."
The sinkhole opened up in the aftermath of Storm Ciara, which caused widespread flooding and destruction, travel delays, and saw winds of up to 100mph hit parts of the UK.