Ex Thomas Cook worker walking from Devon to London to protest after being left with no money to pay bills
3 October 2019, 18:20
A desperate Thomas Cook worker has told how she has been forced to walk from Devon to London to join protests after being left with no money to pay her bills or her mortgage.
Former Thomas Cook worker Rachel Murrell has embarked on the mammoth trek saying she could not justify spending money on train fare, after the firm went bust leaving employees out of pocket.
Ms Murrell, 41, is walking from her home in Kingsteignton, near Newton Abbot in Devon to central London - a distance of around 190 miles.
She said she was "absolutely gutted after she lost her job via a WhatsApp message informing her the firm had gone bust, along with thousands of other Thomas Cook employees.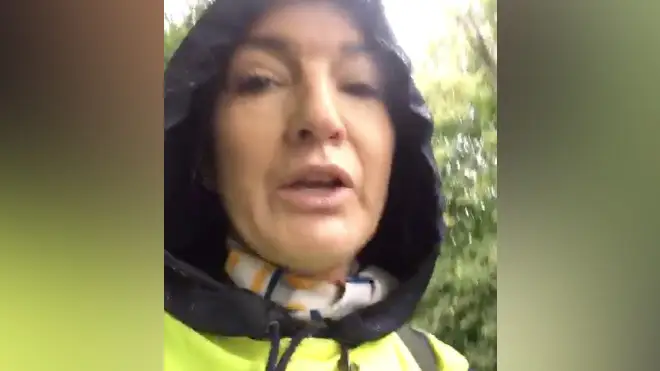 She said she was depressed, could not sleep or eat and was left with chest pains caused by anxiety after she lost her job with her bills mounting up.
She said she decided to join the protest after learning she would not get a payout or any redundancy money.
She is due to arrive in London tomorrow where she hopes to join protesters.
She said: "I can't justify spending any money on a train or parking because I've not got any money. I've not got enough to pay my bills.
"I was reading Dick Whittington to my little girl and I thought, you know what, I'm just going to walk to London and demonstrate.
"I think Thomas Cook have treated their crew and ground staff horrendously, just the way the redundancies have gone through.
"I think it's a travesty that an esteemed company that has been going for 178 years has been let to go down the pan."
She also criticised the company's managers for "clinging on to" their bonuses.
Operation Matterhorn, the biggest ever peacetime repatriation of Brits, was launched after the firm went bust. It will finish on Sunday 6 October, by which time almost all the Thomas Cook passengers who were abroad at the time of the collapse will be back in the UK.
Thomas Cook staff have been told to apply for their salary and redundancy related payments from the Insolvency Service's Redundancy Payment Service (RPS).
The Insolvency Service has said claims would be paid within 14 days of receipt of information, but "special arrangements are being put in place."