280 arrests as Extinction Rebellion 'shuts down' London
7 October 2019, 08:10
Extinction Rebellion activists have begun a fortnight of environmental action, blockading key sites in London and sparking clashes with police.
The Metropolitan Police said that by 9.30pm, officers had made 280 arrests in relation to the protests.
But activists succeeded in bringing the area to a standstill with roadblocks on Westminster and Lambeth Bridges, Victoria Street, Whitehall, Horse Guards Road and the Mall.
There was also a sit-in at the famous meat market at Smithfield in protest at the industry's carbon footprint.
As of 1815hrs today, 276 people have been arrested as part of the Extinction Rebellion protests in London.

— MPS Events (@MetPoliceEvents) October 7, 2019
Protesters occupied Lambeth Bridge, with some attempting to build a wooden hut while others set up a makeshift campsite, despite officers' attempts to remove them.
FOLLOW THE LATEST DEVELOPMENTS LIVE HERE.
Westminster Bridge was also blocked by another group.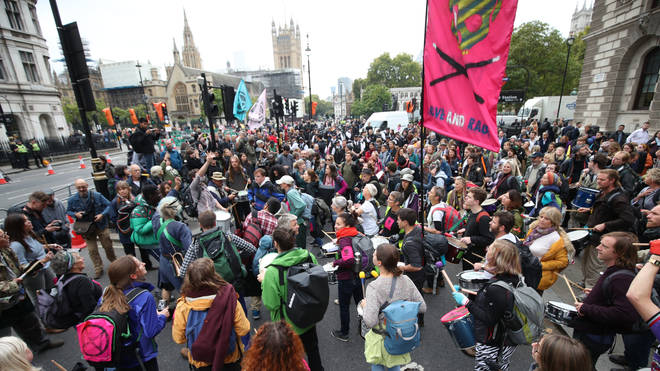 Parliament Square was empty of traffic except for police vans and bicycles, while helicopters circled overhead.
Another group of protesters near Trafalgar Square parked a hearse in the middle of the road, with the driver using a bicycle lock to chain himself to the steering wheel.
It was getting a bit quiet here by Lambeth Bridge, untill the protesters started to build this house(?) then as police tried to dismantle it they started to climb on top.

Elsewhere tents going up- a camp is emerging and police just don't have the numbers here to stop them @LBC pic.twitter.com/PYAzTogiNd

— Rachael Venables (@rachaelvenables) October 7, 2019
Extinction Rebellion protester Caroline Hartnell, 69, from London, said activists were going to be surrounding all the Government ministries.
"We are going to be putting pressure on them - what they are going to do mend the climate emergency, because we are running out of time.
"I have seven grandchildren and the youngest is three. I feel passionately for them (and worry) there is not going to be a world for them to live in."
Oxford University student Fergus Green, from St Albans, was in the growing crowd of drummers, stewards and flag-waving protesters planning to "shut down Westminster".
He said: "People are coming from all over the country. I'm here to force the Government to take action on climate change. I'm a student, I should be at uni - my term has started.
"But I'm here to take action. People are missing work and school to be here."
Earlier on Monday, protesters blockaded a road outside the Ministry of Defence by chaining themselves inside a car.
Police are cutting Extinction Rebellion protesters out of a car that's parked in the middle of the road outside the Department of Defence.

I'm told there have been around least a dozen arrests here already. @LBC pic.twitter.com/WzV19swz2D

— Rachael Venables (@rachaelvenables) October 7, 2019
Officers were seen removing protesters from the blue vehicle, which had been parked sideways across the street.
Among those arrested was 81-year-old Sarah Lasenby, a Quaker and retired social worker from Oxford, who was part of efforts to block Victoria Embankment outside the Ministry of Defence.
She said: "The whole thing is so urgent that it is imperative the Government should take serious actions and put pressure on other states and global powers to radically reduce the use of fossil fuels, even if this means we need to reduce our comfort at home and so much flying."
Activists were also planning to stage a sit-in at City Airport as part of their "international rebellion."
Police were seen guarding Westminster Bridge, which is another of the sites threatened by activists.
Deputy Assistant Commissioner Lawrence Taylor told LBC: "There is going to be significant disruption.
"It means ... that we are unable to be doing some of the policing activity that we should be doing."
Police already out in force guarding Westminster Bridge - which is one of the sites being threatened by @ExtinctionR later this morning.

From 10 o'clock the group want to start blockading 12 spots around Parliament. @LBC pic.twitter.com/GwXyGykRBO

— Rachael Venables (@rachaelvenables) October 7, 2019
Activists are believed to be targeting 12 sites around Parliament on the first day of action.
Popular areas of the capital including Trafalgar Square, Lambeth and Westminster Bridges and the Houses of Parliament are expected to be targeted, in addition to a number of government departments.
Organisers are expecting up to 30,000 people to be involved in the protests over the next fortnight, making them five times bigger than the protests that caused major disruption to London in April.
Ten people were pre-emptively arrested on Saturday at the former Lambeth County Court on suspicion of conspiracy to cause public nuisance ahead of the protests.