Family whose Christmas was ruined by lorry crash speak to LBC News
13 January 2020, 06:26
The man whose house in Harlow was destroyed days before Christmas when a lorry came off the road and ploughed into it – has told LBC News it's been a difficult few weeks.
David Hill and his wife Hannah were asleep inside the property when the vehicle hit it in the early hours of December 17.
The articulated lorry smashed into the corner of the house in Canon's Gate in Harlow waking David with a "tremendous thud."
The top corner of the house was totally smashed, with the lorry left wedged precariously in the side of the home.
The lorry smashed into his daughters' bedroom but luckily they had gone to spend the night with their mother when the crash happened.
The family was forced to go elsewhere for Christmas, despite plans to host relatives for Christmas.
David told us that B&Q only owned the trailer of the lorry – but added that despite this, they've been very supportive and have offered to help with alternative accommodation costs while repairs on the property take place.
David told us the local council and community have also helped to secure the property within 24 hours.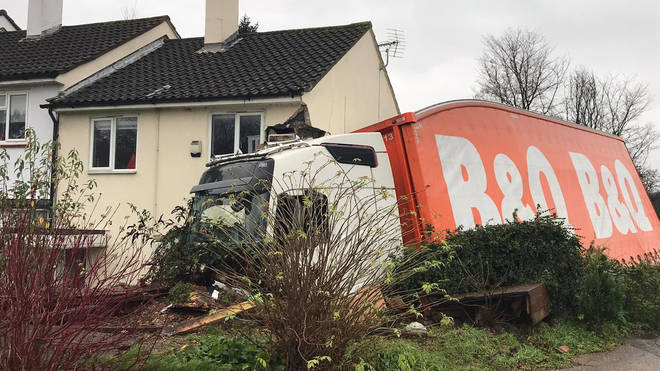 He told LBC News it was not an ideal situation as "dealing with insurers could take up to six months," and in the meantime, he is living with family.
Thankfully the family home is structurally sound and is not as risk of collapse.
An online fundraising page has also been set up for the family for anyone who wants to help.