Couple celebrates joyful moment they wed in Northern Ireland's first same-sex marriage
11 February 2020, 15:41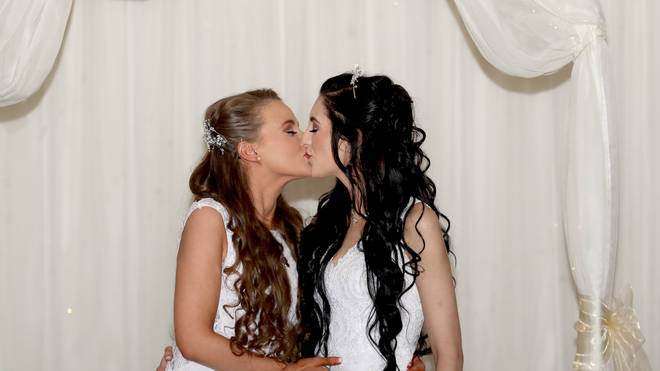 Two women who have become the first couple to tie the knot in a same-sex wedding ceremony in Northern Ireland today described the experience as "completely surreal."
Sharni Edwards, 27, and Robyn Peoples, 26, said they were "humbled" that their wedding was being seen as a landmark occasion for equal rights in the country.
The newlyweds tied the knot in County Antrim on Tuesday following a landmark change to Northern Irish law.
"We didn't expect to be the first couple, it's coincidental," said Ms Edwards.
"Today is our six-year anniversary so we wanted to go ahead with a civil partnership but when the bill was passed it was perfect timing and it was a complete coincidence, a happy coincidence, we couldn't be more grateful."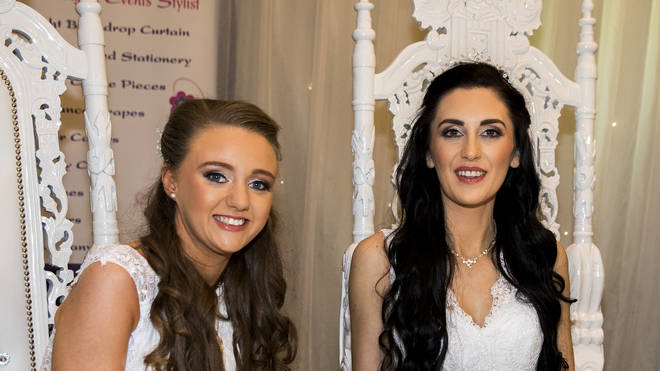 Asked how it felt to have the eyes of the world on them, Ms Edwards added: "It's completely surreal."
Ms Peoples said their wedding could show the people of Northern Ireland that same-sex marriage "is OK."
"We fought so long and hard for this opportunity to be seen as equal and now we are here and it's just amazing," she added.
Ms Edwards said: "We are literally living the dream, it's incredible."
The couple said it meant "the absolute world" to become LGBTQ champions in Northern Ireland, before thanking all the activists who had campaigned before their special day.
"If it wasn't for them guys we wouldn't be sat here right now, we just want to say thank you to everyone... everyone who has marched and signed petitions, everyone who has helped us get to this stage, we just want to say thank you," Ms Edwards said.
Same-sex marriage officially became law in Northern Ireland on Monday, following in the footsteps of England, Scotland and Wales who legalised it in 2014. Heterosexual couples will also be free to enter into civil partnerships on Tuesday.
The pair said: "We didn't set out to make history – we just fell in love."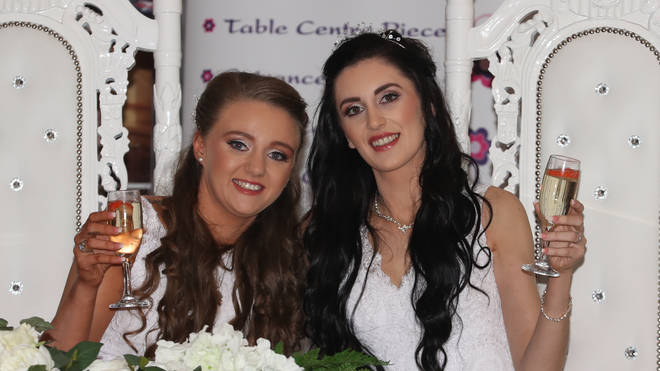 They had previously planned to go ahead with a civil partnership before the law changed, however once the practice was legalised they made plans for a wedding.
Their married name is Edwards-Peoples.
Robyn said that her love with Sharni is "equal to" that between a man and a woman.
"Sometimes people might try to say it's not. Our love is the exact same, and this means everything to us," she added.
"Now we are married and we have this opportunity - this is my wife, I can finally say she is my wife and we have had our marriage."
The partner of murdered journalist Lyra McKee, Sara Canning, said that adding her voice to those calling for the law to be changed to accept same-sex marriages had been "massively helpful" to her grieving process.
"It has been massively helpful to channel my feelings into this, because the alternative was lying down under it, or allowing the anger to be used in a way that isn't constructive," she said.
Ms Canning called the newlyweds marriage "a wonderful moment in our history."
Patrick Corrigan, Northern Ireland Director of Amnesty International, said: "This is a moment Northern Ireland will remember forever – this is the day love became equal in the eyes of the law.
"Robyn and Sharni's love story has become the tale of a successful fight for equality.
"This is a historic occasion of which we can all be proud. As of today, Northern Ireland is a more equal, loving and happy place."