Parents unable to take newborn baby home as flooding leaves village underwater
10 November 2019, 13:27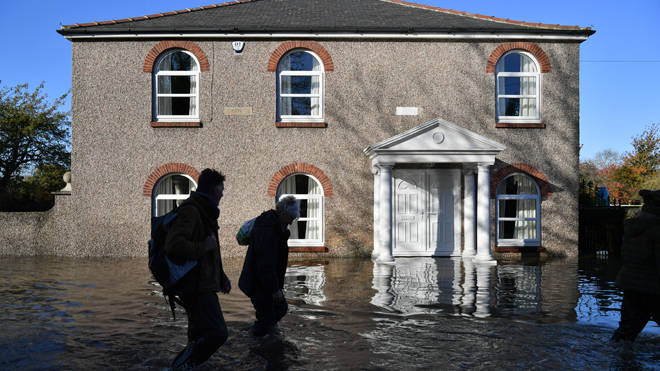 One of the areas worst affected by flooding in the UK is the village of Fishlake near Doncaster in South Yorkshire.
Most of the village in under as much as 1 metre of water, with homes ruined and bridges and roads impassable except for tractors.
About half of the village's 700 residents evacuated their properties as water began to inundate homes.
Claire Holding, who runs the old Butchers cafe said others had decided to stay in their properties, living in the upper floors.
The UK is on high alert for further flooding after heavy downpours left rivers swollen. Seven 'danger to life' flood warnings are still in place.
More rain is set to hit the country overnight.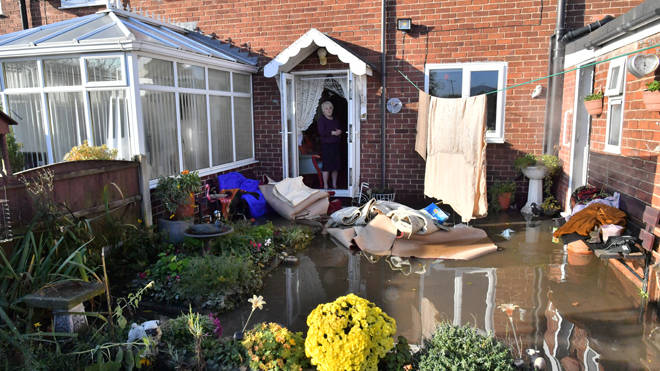 The rain is forecast to reach Northern Ireland first on Sunday evening before hitting Wales and north-west England later in the night and then spreading across the rest of the UK into Monday morning.
The latest from Fishlake

Our crews remain in the area helping as much as possible, we can't thank local communities enough for your support in taking our advice

Our safety advice remains the same- do not enter flood water pic.twitter.com/8BHwkJng68

— South Yorkshire Fire (@SYFR) November 10, 2019
Parts of the UK are still dealing with the aftermath of widespread flooding which hit towns across the Midlands and northern England on Thursday and Friday.
Several areas were deluged with one month's worth of rain in a day and a woman died after being swept up in floodwaters.
The body of Annie Hall, the former High Sheriff of Derbyshire, was found in the River Derwent on Friday morning after she was engulfed by floodwater in Darley Dale, near Matlock.
Ms Holling said: "I just managed to get here on the back of a tractor and I live in the village," she said.
"We've opened up and we're making sure everyone has bacon and sausage sandwiches and a warm settee to sit on. It's getting quite full in here now.
"Everyone's pulling together and making sure vulnerable people are being looked after."
Still no news from the council the police or the environment agency about what's going on in Fishlake? This is my daughter who was born on Friday and hasn't been home yet and we don't know what to do. Anybody help us please!? pic.twitter.com/O8NQgE5gvn

— Slobber (@greenslade85) November 10, 2019
The Hare and Hounds was sending hot meals to people trapped in their homes and firefighters were in the village to provide rescue if necessary, Ms Holling said.
Another resident said he had been unable to get back to his home after the birth of his new daughter after the flooding.
Dan Greenslade said his girlfriend had given birth on Friday and they were expecting to return home afterwards but could not get home with his partner Jade Croft and baby Indie because their property had been flooded.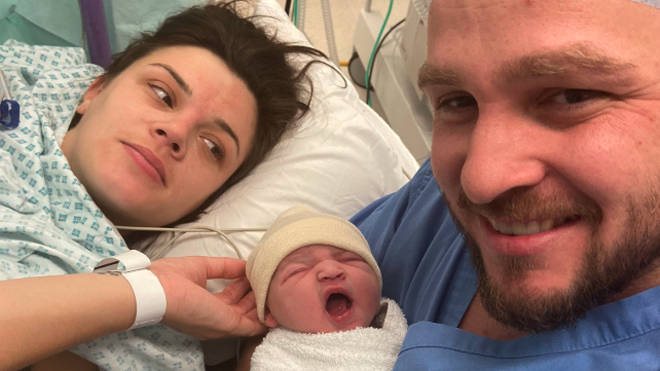 He said "My girlfriend had a baby yesterday and our house has flooded and is uninhabitable but despite asking I've not heard a thing from the environment agency or the council. It's horrible, not sure what we should do," Mr Greenslade posted online.
"Still no news from the council the police or the environment agency about what's going on in Fishlake? This is my daughter who was born on Friday and hasn't been home yet and we don't know what to do. Anybody help us please!?" He wrote today.
Mr Greenslade said he didn't know how much damage had been done to his newly renovated home, and that he and his partner had spent lots of money getting the house ready for their new baby.
He said: "We can't get home, all the roads in and out of Fishlake are flooded and we don't know when we'll be able to get back or what the state of our house will be. "We only moved in three weeks ago and spent a load of money to renovate it ready for the baby coming."
Seven severe "danger to life" flood warnings, all along the River Don in Yorkshire, remained in place on Sunday, according to the Environment Agency.
There were also 41 active flood warnings and 94 flood alerts.
Snow could fall in parts of Scotland on Sunday night and Wales could get a dusting later in the week, Ms Yeomans added.
The coldest night of autumn was recorded in Altnaharra in the Scottish Highlands on Saturday night where the temperature dropped to minus 7.1C.
Northern Railway on Sunday warned people in South Yorkshire that some routes are likely to remain closed because of flooding until further notice.
"Inspections have taken place this morning on those routes still affected by flooding and there is still a significant amount of work required before the tracks are cleared for trains," a spokesman said in a statement.
"While flooding in the area continues to subside, tracks in several locations remain under water, with debris and damage becoming apparent as the flood waters drain."
The following routes are affected: Doncaster to Scunthorpe, Sheffield to Goole, Sheffield to Doncaster and Sheffield to Leeds via Moorthorpe.