Flooding throws roads and railways into chaos
6 October 2019, 19:33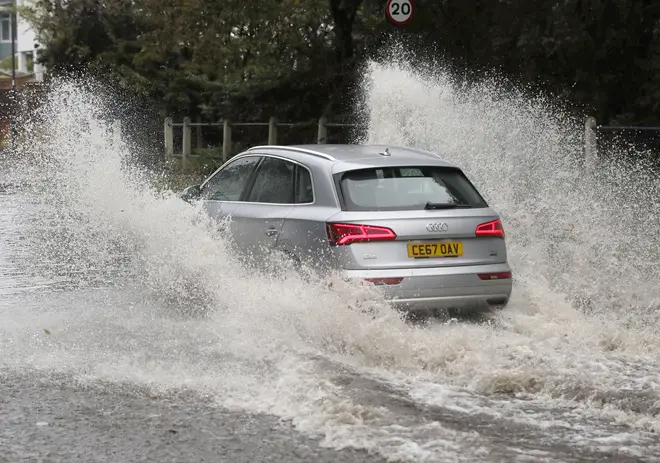 Heavy rain has triggered flooding in East Anglia, disrupting the train service and leaving roads impassable.
The Met Office has issued an amber weather warning for the east of England after rain from the west caused flooding across the region.
The heavy rain has triggered surface water flooding in East Anglia, which has caused huge travel disruptions.
Norfolk Fire and Rescue Service said on Twitter it had been "inundated" with 999 calls about "widespread flooding".
Residents under threat from flood water were advised to turn off the electricity supply and move valuables upstairs.
Some people have been cut off srom their homes due to the flooding.
Ellen Isaac, 26, from Wroxham in Norfolk, said: "The conditions are awful at the minute, all the main roads have points where they are flooded right across. The more rural roads are completely blocked."
"I needed to pick up my prescription and then couldn't get back home due to the flooding."
"I live in Wroxham, but I'm currently stopped at a friend's house."
"I'll try again later before it gets dark but I don't really want to get stuck too late."
We are currently inundated with 999 calls regarding widespread flooding. Until further notice, please avoid making 999 calls unless there is a perceived risk to life.

— Norfolk Fire and Rescue Service (@Norfolkfire) October 6, 2019
We recommend to all those at threat from flood water to take precautionary action such as placing towels and turning off the electric supply. Where possible move valuables upstairs.

— Norfolk Fire and Rescue Service (@Norfolkfire) October 6, 2019
Norfolk police said the surface water issue was "particularly acute" in the east of the county.
Flooding on the railway has also meant that Greater Anglia services were unable to run between Norwich, Lowestoft, Great Yarmouth and Sheringham.
According to the Met Office, Cromer on the Norfolk coast saw the highest total rainfall in the past 12 hours with 46.4mm.
This was followed by 45.6mm falling at Weybourne and 44.6mm at Tibenham Airfield, both also in Norfolk.