Jeremy Corbyn calls government fracking halt 'an election stunt'
2 November 2019, 09:13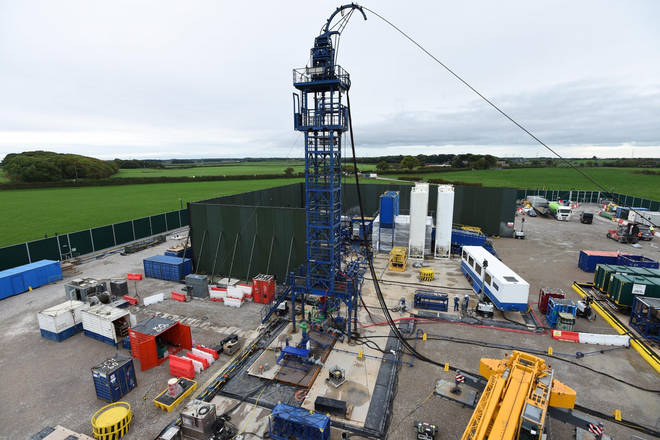 The Labour leader has said the move is being used by the Conservatives to "win a few votes" before the general election.
Jeremy Corbyn has called the government's halt to fracking "an election stunt" and said that people "cannot trust" the Prime Minister.
Taking to Twitter, Mr Corbyn said:"The Conservatives' temporary pause of fracking is an election stunt to try and win a few votes.
"Boris Johnson described fracking as 'glorious news for humanity'. We cannot trust him.
"Labour would ban fracking. That's real change."
The Conservatives' 𝘁𝗲𝗺𝗽𝗼𝗿𝗮𝗿𝘆 pause of fracking is an election stunt to try and win a few votes.

Boris Johnson described fracking as 'glorious news for humanity'. We cannot trust him.

Labour would ban fracking. That's real change.

— Jeremy Corbyn (@jeremycorbyn) November 2, 2019
The government announced that their support for shale gas extraction, or fracking, has been halted amid fears about earthquakes caused by the process.
The U-turn comes after a report by the Oil and Gas Authority (OGA) concluded that it is not currently possible to accurately predict the probability or magnitude of earthquakes linked to fracking operations.
Fracking has been suspended since a tremor in Lancashire in August.
The suspension came after Cuadrilla Resources - the only company licensed to carry out the process in the UK - caused a magnitude 2.9 earthquake at its Preston New Road site in Lancashire.
Prime Minister Boris Johnson said on Thursday he had "very considerable anxieties" about shale gas extraction.
The government also said its proposals to change the planning process for fracking sites will no longer be taken forward.
Business Secretary Andrea Leadsom said the process has "huge potential" but the government was "no longer convinced" shale gas could be extracted safely.
Mrs Leadsom said: "After reviewing the OGA's report into recent seismic activity at Preston New Road, it is clear that we cannot rule out future unacceptable impacts on the local community.
She therefore said the government should put a pause on fracking "with immediate effect".
Business, energy and clean growth minister Kwasi Kwarteng said: "The Committee on Climate Change's advice is clear that natural gas will continue to have a key role to play as we eliminate our contribution to climate change by 2050, including for the production of hydrogen.
"However, following our action today, that gas will need to come from sources other than domestic fracking.
However, the government has stopped short of an outright ban.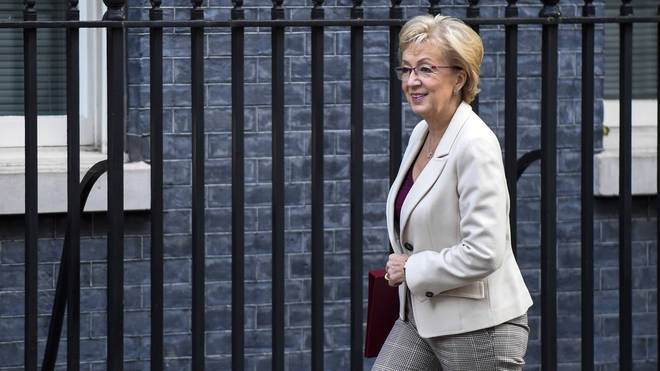 Fracking is a process in which liquid is pumped deep underground at high pressure to fracture shale rock and release gas or oil trapped within it.
The government's stance on the process has previously caused controversy, with Labour and the Liberal Democrats already supporting a pause to the process.
The Liberal Democrats said that while a Government "moratorium" on fracking was welcome, it still did not mean that the practice would be banned.
Liberal Democrat former energy secretary Ed Davey, said: "Liberal Democrats back an immediate ban now, given the evidence we are now in a climate emergency.
"The law Liberal Democrats passed to protect communities from earthquakes and seismic tremors caused by fracking has done a lot to prevent the Conservatives pressing ahead with fracking.
"He continued: But this belated, eve of election policy pause won't distract voters from the Tories' shocking record on the environment - not least the Prime Minister's, when he lobbied to relax air pollution laws.
"The Tories are about as eco-friendly as a dustbin fire."
Labour have also called for the Government's fracking suspension to be permanent and questioned whether voters can trust Boris Johnson's U-turn.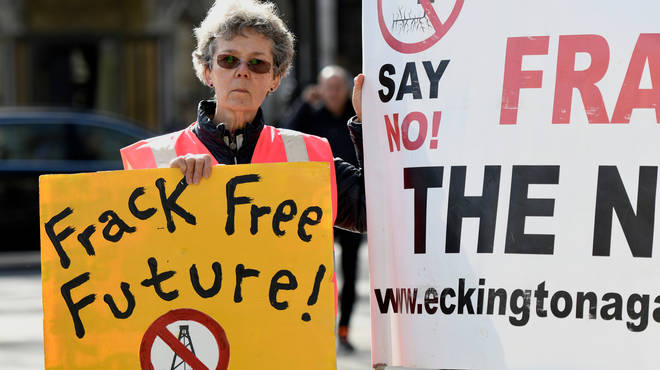 Fracking has caused protests in counties such as Lancashire and Yorkshire.
The protests are estimated to have cost public bodies at least £32.7 million since 2011.
Much of the disturbance caused has affected residents living near the racking site in Preston New Road, Lancashire, which is run by Cuadrilla.
Despite the announcement, campaigners outside the Preston New Road site have said the "remain sceptical" and would continue their protest "as business as usual" until the fracking machinery is taken away from the site.
Tom Fyans, deputy chief executive of countryside charity, CPRE, said that the news was a "fantastic win" for local democracy.
"Today we celebrate alongside the local communities, campaigners and environmentalists who have been campaigning valiantly to stop fracking for many years.
"This is a fantastic win for local democracy and everyone who cares about protecting the countryside from climate catastrophe and mass industrialisation.
He continued: "In a state of climate emergency, the decision to ban new fracking is absolutely essential but CPRE urges the next government to go even further with a range of policies that will help tackle the climate emergency.
"Today's announcement should signal the start of a step change in the way we tackle the climate emergency."
Ken Cronin, chief executive of UK Onshore Oil and Gas, on behalf of the industry said: "Hydraulic fracturing stimulation is a long-standing technology used around the world and in a number of industries, including the oil and gas, water and geothermal sectors.
"Going forward, we are fully committed to working closely with the Oil and Gas Authority and other relevant regulators to demonstrate that we can operate safely and environmentally responsibly. "
Cuadrilla declined to comment on the announcement.