'Frantic Friday' traffic gridlock warning as millions prepare to make summer holiday getaway
20 July 2018, 09:11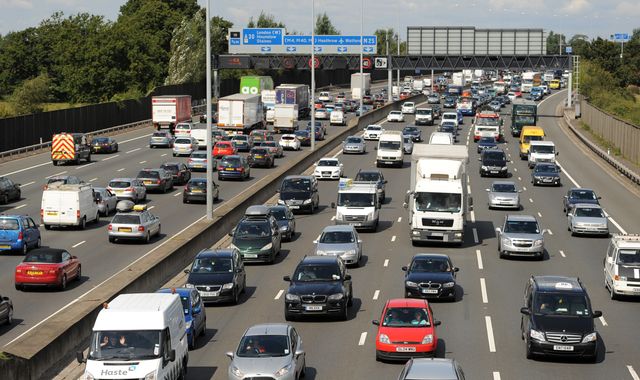 Drivers are being warned to expect gridlock on some of the UK's main motorways and roads this weekend as millions of people make their summer getaway.
More than nine million of us are expected to make road trips between Friday and Sunday, according to the RAC.
Transport data firm Inrix has warned that some routes could experience lengthy delays compared with a normal Friday.
People heading south on the M5 between Gloucester and Devon should expect hold-ups of about an hour and a quarter, while those heading westbound on the A303 between the M3 in Hampshire and the A37 in Somerset could find their journeys taking an extra hour.
RAC traffic spokesman Rod Dennis said: "This weekend tends to be one of the busiest on the roads for leisure journeys, second only to Easter and Christmas.
"On some popular routes this may well mean gridlock, especially through the second half of Friday, when commuters and holidaymakers will be sharing space on the same stretches of the UK's roads.
"As a result, it will almost certainly feel like a frantic Friday for some."
With the majority of schools in England and Wales breaking up for the summer, ports and airports are predicted to be exceptionally busy too - with 2.5 million British holidaymakers heading overseas.
Mediterranean hotspots are among the most popular, travel organisation ABTA said.
Spain is the top destination, with Turkey, Egypt, Greece, Bulgaria and Croatia also proving popular.
More than half a million passengers will be departing from Heathrow Airport, and 250,000 from Gatwick.
And despite schools in Scotland being well into their summer holidays, 174,000 people will also be departing from Glasgow and Edinburgh airports.
The sunny weather could see traffic rise even further as people set off on spontaneous breaks.
The Met Office has said temperatures are expected to reach 30C (86F) in some areas.
And with high temperatures putting extra strain on cooling systems and tyres, the AA has said motorists should carry out maintenance checks on their cars before setting off on long journeys.
"If your car breaks down your air conditioning might not work either," the organisation's president, Edmund King, said.
"So make sure you have plenty of drinking water in the car, especially if you have young or elderly family members with you."
(c) Sky News 2018: 'Frantic Friday' traffic gridlock warning as millions prepare to make summer holiday getaway