Glasgow takeaway offers free curry for coronavirus infected
3 March 2020, 09:37
A Glasgow restaurant's giving away free curries to "cheer up" any of their customer who end up infected with coronavirus.
The Shish Mahal will deliver a meal every night for two weeks for people who contract it or have to self-isolate.
It's as the first case was confirmed in Scotland on Sunday - with 40 across the rest of the UK.
And Scotland's Chief Medical Officer Catherine Calderwood has said up to 80% of the UK population could become infected.
Manager of the Shish Mahal Asif Ali said: "We help the community. We hope it doesn't happen, but if the coronavirus does come to Glasgow and affects one of our customers, for two weeks we will deliver them a curry just to cheer them up. It's something just to give back to our customers.
"We would be sad that someone has the coronavirus, but hopefully it won't be too severe and we'll do our best to cheer them up.
"The Chicken Tikka Masala was invented by the Shish Mahal so they can have that, or any other curry of their choice.
"In Glasgow, we are a hardy bunch and we just get on with it. Something happens, we get over it and we move on.
"I don't believe it'll reach the levels where it will affect business. People will still go out, people will still eat, people will still drink.
"Glaswegians don't worry much, they just get on with their lives, and whatever happens they'll deal with it."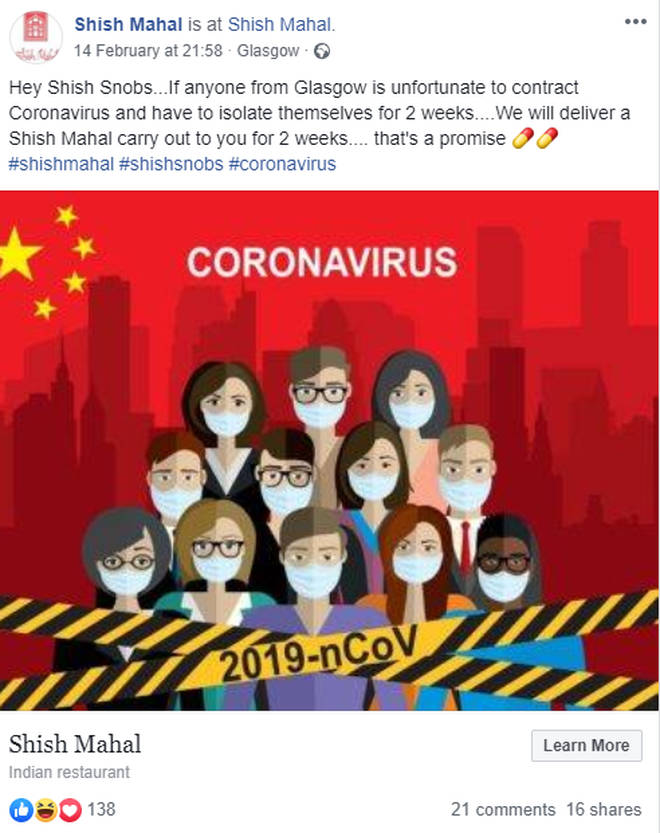 A Scottish Government spokesperson said: "Our approach is guided by the Chief Medical Officer, and we continue to monitor the situation closely and to work with the WHO and international community."
The UK Government says people returning from Hubei province in China, Iran, locked-down areas in northern Italy and special care zones in South Korea in the last 14 days should immediately self-isolate at home and call NHS 111.