Greenpeace blocks almost 100 Barclays branches from opening
2 March 2020, 15:06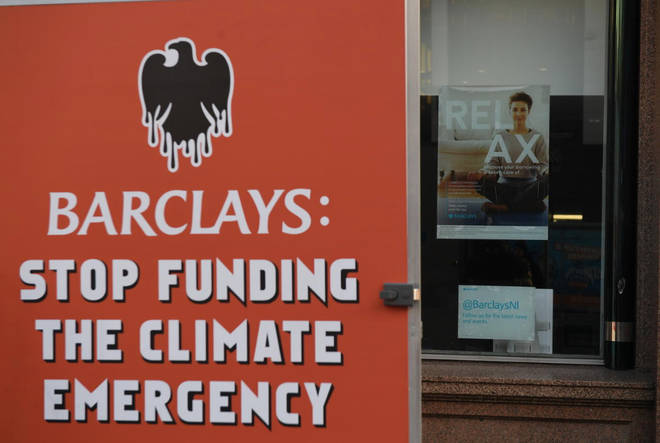 Greenpeace has obstructed the doors to almost 100 branches of Barclays to protest the firm being "the biggest funder of fossil fuels among banks in Europe."
In the early hours of Monday morning, 97 Barclays branches were closed across the UK, including Bristol, Belfast, Manchester and Cardiff.
They want the bank to start funding renewable energy instead.
Images of protesters holding placards saying "stop funding the climate emergency" and "stop funding fossil fuels" were posted on the Greenpeace social media accounts.
Protesters also set up "pop-up exhibitions" bearing huge photos of climate change issues to block the doors and prevent staff from entering.
Barclays said they are working to re-open the branches as quickly as possible.
in a statement, Greenpeace said: "Banks like Barclays are backing the companies wrecking our planet & then denying their actions have consequences. For them shareholder value comes first - even if it means cashing in on the climate crisis.
"Millions of customers trust Barclays with their money & their future - but the truth is we can't trust them with our planet. The choice is clear: fund a better future for your customers, or bankroll climate breakdown.
Banks are as guilty for the destruction of the climate as the fossil fuel companies they fund & Barclays is the worst in Europe. They provide billions of pounds in fossil fuel funding every single year. This needs to stop. Now."
A Barclays spokesperson said: "We recognise that climate change is one of the greatest challenges facing the world today, and are determined to do all we can to support the transition to a low carbon economy, while also ensuring that global energy needs continue to be met.
"Greenpeace has a view on these issues to which they are completely entitled, but we would ask that - in expressing that view - they stop short of behaviour which targets our customers, and our colleagues, going about their lives in communities around the country."