Grenfell inquiry: Firefighter told resident to find family despite fears he would die
16 July 2018, 13:20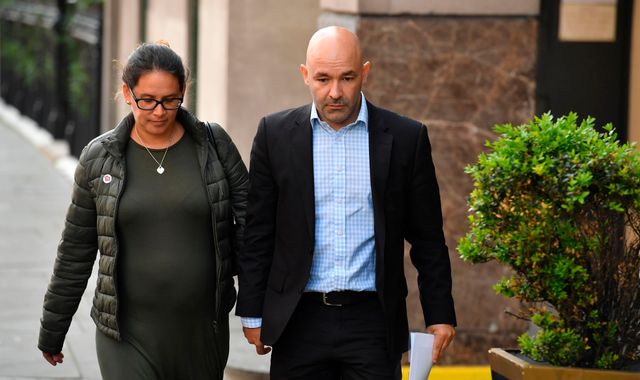 A firefighter has described the moment he told a Grenfell resident to go back and find his family in a smoke-clogged stairwell, despite fearing he and his family would die as a result.
An inquiry into the tragedy, which claimed the lives of 72 people in west London, heard evidence from Jason Oliff, who spoke of the moment he believed the advice had cost the lives of an entire family.
The Chiswick and Feltham station manager, who was responsible for relaying information from trapped residents's 999 calls to officers on the ground, was called over by a control room operator who advised a man on the 21st floor to try and flee the burning building with his heavily pregnant wife and young children.
The operator expected firefighters to guide them through the smoke-engulfed stairwells but realised the family were alone.
Moments later, the man on the phone told the operator he had become separated from his wife and children.
"The operator could hear the male calling out for his children, he was now in extreme distress," Mr Oliff said in a written statement to the inquiry.
"The operator was also understandably distressed, she informed me that the male didn't know what to do and again asked me 'what do I tell him?'.
"This was an impossible decision to make, there was no right or wrong answer I could give and I did not give this advice easily.
"I told the operator 'tell him to go back and get his daughters'.
"I knew in saying this that the male probably wouldn't survive but my thinking was that, if it was me, I wouldn't want to get out of that tower without my family and live with that for the rest of my life."
The man in the tower was later heard over the phone talking to someone and the operator believed he had found his children. She also thought she could hear an unconscious man breathing a short while later.
A few months later, Mr Oliff said he found out the family survived after being aided by firefighter but their unborn baby Logan had died as a result of fire on 14 June last year.
Speaking on the first day of the inquiry, the baby's father Marcio Gomes described the moment he held Logan for the first time.
"He looked just like he was sleeping. In the moment we felt our hearts break. But we were able to be with him," he said.
(c) Sky News 2018: Grenfell inquiry: Firefighter told resident to find family despite fears he would die