Harry and Meghan told Canada shouldn't have to foot security bill
22 January 2020, 10:07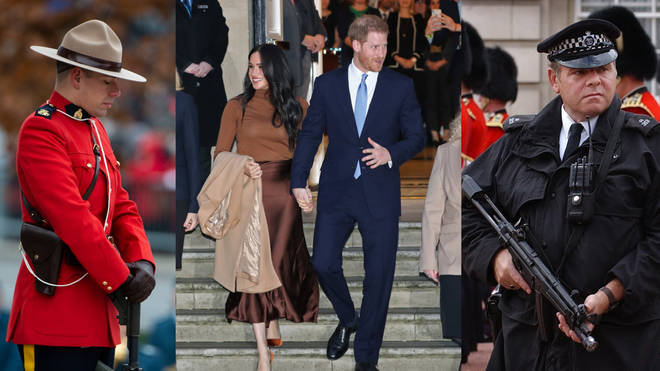 Canadian taxpayers should not be forced to foot the bill for the Duke and Duchess of Sussex's security, one of the country's MPs has said.
Laurel Collins, the MP for Victoria, where Harry and Meghan are staying after leaving the UK, told reporters she hoped they would pay their own security costs.
She said: "I hope that they're planning on covering their security costs.
"When it comes to the money our government spends and taxpayer money it's important that we put this into context and think about our priorities.
"That we're prioritising making life more affordable for people, that we're prioritising protecting our environment and that we're spending our tax dollars on the things that really matter to Canadians."
Following the announcement that the pair planned to step back one of the biggest questions raised was the cost of armed security for the couple, with their status as Internationally Protected People potentially seeing the bodyguard budget spiral out of control.
Harry and Meghan issue legal warning to media over paparazzi photos
Canadian prime minister Justin Trudeau had previously said there was much to discuss over the Duke and Duchess of Sussex's move to his country.
Their status means they are both entitled to armed protection, but it has left people questioning who will foot the bill.
Harry has private meeting with Boris Johnson at 'final' event as senior royal
Security for the royal family as a whole costs the taxpayer in excess of an estimated £100 million a year, but the actual figure is never disclosed.
Harry and Meghan will earn their own money when they step back fully from royal life.
Harry breaks his silence telling of 'great sadness' over Megxit
They had initially hoped for a dual role, supporting the Queen, the Commonwealth and Harry's military associations.
However, the idea was deemed unworkable.
The Prince of Wales will offer some private financial support to Harry and Meghan but it is not known if this will come from his £21 million a year Duchy of Cornwall income or other private funds.
Harry joined Meghan and Archie in Canada on Monday night as they prepare to live a more private life.
On Tuesday the Sussexes issued a legal warning to the media after various outlets published paparazzi shots of Meghan walking her dogs with Archie.
The images of the duchess emerged on Monday morning and showed her walking her two pets with her son in a baby sling in a park in Vancouver.
But the pictures were reportedly taken by photographers hiding in bushes with long-lens cameras.
After the images surfaced, the couple's legal team at Schillings sent a legal notice to the UK press, TV and photo agencies warning against using them.