Storm Doris: Heart-Stopping Moment That Huge Tree Is Knocked Over
23 February 2017, 14:25 | Updated: 23 February 2017, 14:47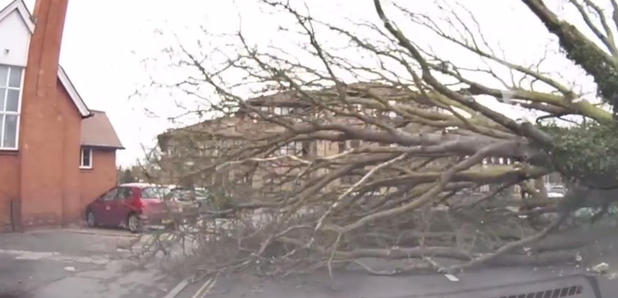 Caught on camera: this video shows the terrifying moment the Storm Doris sent a huge tree smashing down onto the road, just feet from a car.
The video was shot by an instructor from the Paul Smith LDC Driving School, near the South Holland District Council offices in Spalding in Lincolnshire.
It's believed to have been recorded around 12.30pm today.
A woman has died in Wolverhampton as the storm struck and it's continuing to cause major disruption and damage across the UK.
Storm Doris: Will It Hit Your Area?
It's gotten so bad that Doris is now being described as a "weatherbomb".
Winds of up to 75mph were reported in Ireland where some 37,000 households are without power due to more than 900 faults, said ESB Networks.
London Euston was among the railway stations dealing with delays and cancellations, with Virgin Trains advising passengers to postpone their travel until Friday due to the storm.
Earlier in the day, lines were blocked between Lockerbie and Carlisle due to flooding and an electricity failure closed lines between Crewe and Warrington Bank Quay.