'Heartbroken' and 'numb' Flybe staff share final memories of the airline
5 March 2020, 12:09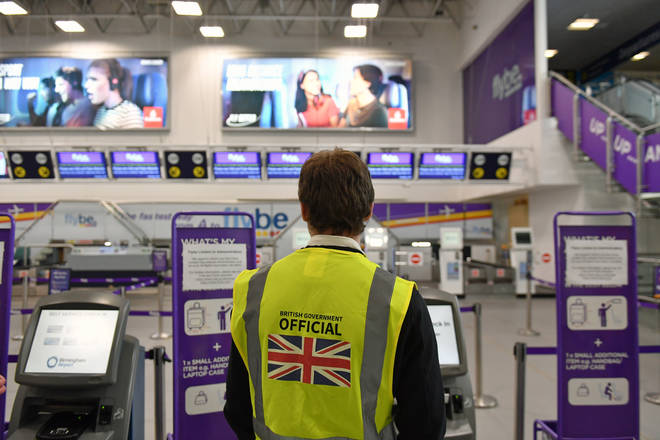 Thousands of pilots, cabin crew and ground staff who were employed by Flybe are facing the prospect of unemployment after the carrier fell into administration.
But as the news of the collapse broke on Thursday morning, those working for Europe's largest regional airline had little more than fond memories of their "dream job" with the company.
In Belfast, Clare Donnelly said she stayed up late to see her "smiling" dad get home "one last time in his uniform" after he captained his final flight for Flybe.
Posting a picture to Instagram of him in his stripes, she said: "It's 3am, having had one heck of a day at work, he landed the last plane into Belfast City Airport tonight, against all the odds, the last Flybe flight ever and still smiling."
"As we waited up to see him walk through the door one last time in his uniform, we couldn't help but think of the shining example he has been to us all, of someone who truly loves what they do."
"Disappointed as to how it has come to an end but that has no reflection on your countless achievements snd success over the last 28 years of flying."
Meanwhile, other employees posted pictures of their memories working for the airline with many saying they were "heartbroken" and "numb" after finding out via email.
Juliette-Rose Carruthers, who worked for Flybe for six years, said she was filled "with such sadness" at the news.
"Whilst flying the skies yesterday, not for one moment did I realise that it was going to be my last day working for Flybe and that honestly breaks my heart," she said.
"To my colleagues, I will miss you all. I will miss sitting in the back galley drinking tea and chatting about only things your closest friends would know, even if we had only worked together several times.
"Thank you for making my time at Flybe so enjoyable and the thought of not seeing you all each day fills me with such sadness."
Heather Hillier had a more personal experience during her 16 years with the carrier.
"I met my husband at Flybe and have so many other happy memories," she wrote alongside a picture of her wedding cake adorned with a bride and groom straddling a Flybe aircraft.
She added: "If anyone knows of any suitable employment in the Southampton/Portsmouth area I would be very grateful if you could message me."
READ MORE: Heartbroken staff find out of jobs loss from the news
READ MORE: Flybe collapses claiming coronavirus 'made a difficult situation worse'
Around 14,000 people have lost their jobs as a result of the Flybe's collapse, which comes after more than a year of financial hardships for the UK airline.
Free travel for Flybe staff is currently being offered by all First Rail train operators, which includes Great Western Railway, South Western Railway, TransPennine Express and Avanti West Coast.
READ MORE: Booked a flight with Flybe and don't know what happens next? Here's what to do.