Heathrow drone protest: Activists claim they have flown drones within airport exclusion zone
13 September 2019, 06:19
Since Thursday police have arrested nine people in relation to a planned drone protest due to take place at Heathrow Airport on Friday
In a press statement, the climate group claimed "there have been 3 drone flights so far this morning. Some were interrupted by signal jamming, but at least one toy drone was flown at head height near the airport."
Seven members of Heathrow Pause were also pre-emptively arrested on Thursday after they allegedly planned to disrupt flights with toy drones.
James Brown, a former Paralympian, who took part in the action, has now been arrested by police at Heathrow Terminal 2.
Heathrow Pause has named the other two drone pilots arrested on Friday morning as Marko and Steffen. They did not share their surnames.
They said a fourth person has also been arrested, a man named Frank who was filming the activists.
These are in addition to Paralympian James Brown, who was arrested at Terminal 2 earlier in the day.
Reacting to the arrests, the group said: "The real objective was always to trigger a sensible, honest conversation, throughout society, on the dangerous folly of Heathrow expansion, with the ultimate objective of cancelling the third runway.
"That conversation is now happening. It is incumbent on all of us to keep it going."
The climate change group have claimed that police are using "signal jamming" equipment to prevent their planned protest.
Police implemented a dispersal order around the airport ahead of the protest "to prevent criminal activity which poses a significant safety and security risk to the airport."
The group wanted to use the drones to disrupt flights to highlight the "grave risk or airport expansion during the climate and ecological emergency."
The activists, who splintered off from Extinction Rebellion, said the drones would be flown at head height and away from flight paths so no lives were put at risk.
In the early hours of Friday morning, a live stream was shared on a Heathrow Pause Twitter account, showing two people struggling to get a drone off the ground.
The two men, filming themselves near a road, said they were experiencing "a technical glitch". The device could be seen flashing red and green lights, but did not make it into the air.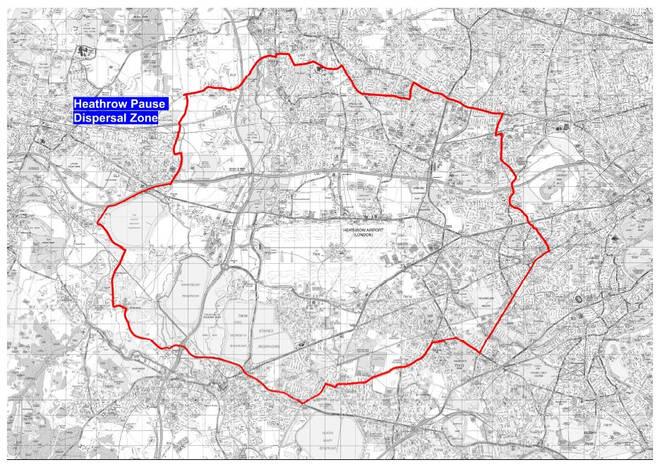 But flights began landing at the south west London airport as usual on Friday morning, with the first international flights landing shortly before 5am.
Three women and six men aged between their 20s and the 60s have been arrested on suspicion of conspiracy to commit a public nuisance after threatening to fly the devices within the 3.1 mile no-fly zone.
Among those taken by police include prospective drone pilots Roger Hallam and Mike Lynch-White.