Woman dies after stabbing at south-east London Holiday Inn
5 July 2020, 17:59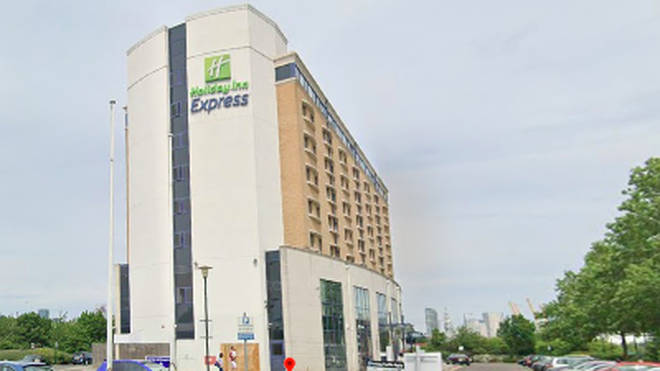 A woman has died after being stabbed at a Holiday Inn in south-east London.
The Metropolitan Police said officers were called to the Holiday Inn on Bugsby's Way, Greenwich, shortly after 10am on Sunday.
A woman was found with serious injuries and was declared dead at the scene.
A man - who officers believe to have been known to the woman - fell from a height while emergency services were at the scene.
He has been taken to hospital under police guard and his condition is being treated as life-threatening.
Photographs shared on social media show a broken window five storeys up on the hotel.
A local, who did not want to be named, passed the scene while jogging and said emergency services gathered on a ledge on the second floor.
"As I understand the guy was still on the ground there," the witness said.
"Detectives from Specialist Crime have launched an investigation. Enquiries into the circumstances continue."
1/2: A woman has been stabbed to death at a Holiday Inn while a man is fighting for his life in hospital after plunging from a window of the hotel in #Greenwich, south-east London.

Met Police say at 10:02am they were called to the Holiday Inn on Bugsby's Way, SE10.

More below. pic.twitter.com/cOg0578lSe

— London 999 Feed (@999London) July 5, 2020
"I think there were three ambulances, three police cars and one ambulance helicopter and one fire brigade... this is around 11.10am."
Scotland Yard said they do not believe anybody else was involved in the incident and have asked anyone with information to come forward.
The hotel's general manager Umar Khattak, 38, said the man and woman involved in the incident checked in on Saturday.
While the hotel has been open during the pandemic to NHS staff at the nearby Nightingale hospital, Saturday was the first day it was open to non-key workers, Mr Khattak said.
He added: "We don't know exactly what happened. I was at home when I got a call from a staff member.
"There was some noise coming from the room and we had received calls from different guests about it. They said there was shouting."
Mr Khattak said police were called and officers moved all guests out of the fifth floor.
"We still don't know what exactly happened," he added. "I was not allowed into the hotel (by police) when I arrived.
"The fifth floor and second floor are sealed off at the moment."
The second floor looks out on to the ledge where the man is believed to have fallen, Mr Khattak said.
Police were still at the scene on Sunday evening, although guests were still allowed into the hotel, which was at 20% occupancy.
An officer with a sniffer dog could be seen searching bushes outside the front of the premises.
Broken glass was scattered across part of the car park underneath a smashed fifth-storey window.