"I Can See You!" Cafe Owner Scares Off Burglar From 4,000 Miles Away
18 October 2018, 14:28
A cafe owner managed to scare off a burglar while on holiday by shouting "I can see you" through a CCTV device on his phone.
Jamie Foster was in the Dominican Republic when he was alerted to an intruder raiding his business in Wickford, Essex.
Footage streamed to the cafe owner's phone showed the burglar rifling through the tills.
But, using the device, Mr Foster, 34, was able to scare him off by shouting "you know I can see you" through his phone.
The criminal fled the scene with £50 in his hand.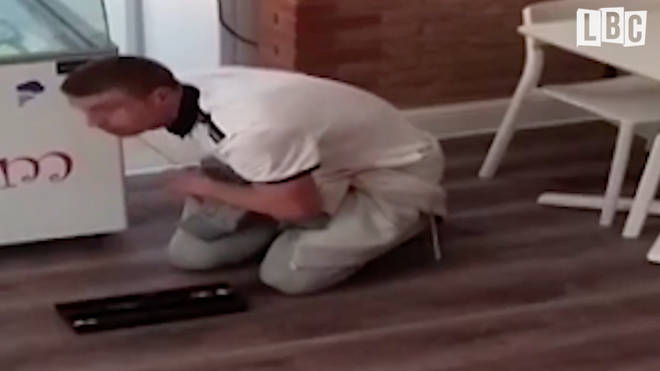 Mr Foster said: "It was a very quiet coach and then I just started shouting at my phone.
"I think I made a few people jump. If anyone was asleep, it would have woken them up.
"I could see him rummaging around the cupboard. I told him I could see him.
"If I wasn't on a coach I probably would have been a lot louder and more abusive."
Detectives are investigating the break-in and have released an image of a person of interest.
The camera connects to the cafe's wifi and is activated by heat sensors.
Once someone is detected, Jamie receives a notification on his phone, which opens a live video feed.
He was on his way back from a two-week holiday with his family when the intruder struck.
It was the second raid this year following a burglary in March.