Jeremy Corbyn joins Thomas Cook workers on Westminster protest
2 October 2019, 18:18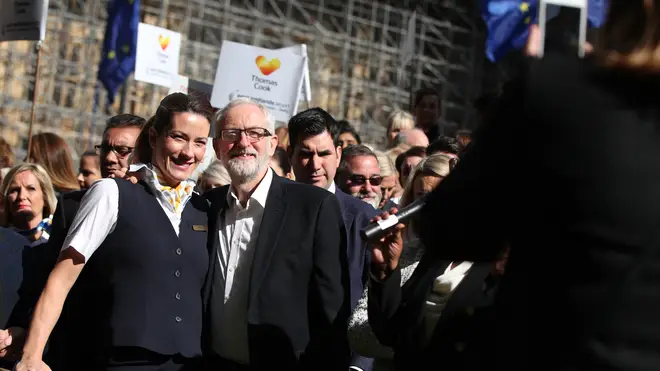 Jeremy Corbyn joined former Thomas Cook workers staging protests in Westminster after they claimed they were "abandoned" by the Government.
Staff from the travel giant, which collapsed on September 23, handed petitions to 10 Downing Street and the Business Department calling for a full inquiry into its demise.
The workers are also demanding that the company's directors pay back their bonuses, and want Business Secretary Andrea Leadsom to make sure they receive their unpaid wages.
They were not paid their monthly wages on Monday, and many are now having problems with rent and mortgage payments, according to the Unite union.
Assistant general secretary Diana Holland said: "Unite is pleased to be supporting the lobby and protest in Parliament that has been organised by Thomas Cook workers who lost their jobs without warning.
"The fact that workers are coming to Parliament from all parts of the UK demonstrates just how angry workers are with the Government, which they rightly believe has abandoned them.
These workers have lost their jobs because of the shameful practices of Thomas Cook's directors.

They gave themselves £29 million in bonuses despite plummeting profits.

The government must take a public stake in Thomas Cook to secure this company and save 9,000 jobs. pic.twitter.com/gtChYZSDDl

— Jeremy Corbyn (@jeremycorbyn) October 2, 2019
"This week, workers have been left with no income as their wages were not paid.
"Workers do not understand how the profitable Thomas Cook airline was allowed to collapse while the European subsidiaries were able to continue to fly.
"The very least the Thomas Cook workers deserve is to receive an answer to the question as to why the company was allowed to collapse, as well as an explanation from the Government as to its lack of action in the lead-up."
On Wednesday, Labour MP Lucy Powell called on the Government to step in and take emergency measures to stop other airlines failing in the wake of Thomas Cook's collapse.
She told the Commons: "Given that the warning signs were there for months, if not years, will the Government use this extra parliamentary time that we have now got to bring forward emergency legislation to stop further airline collapse?"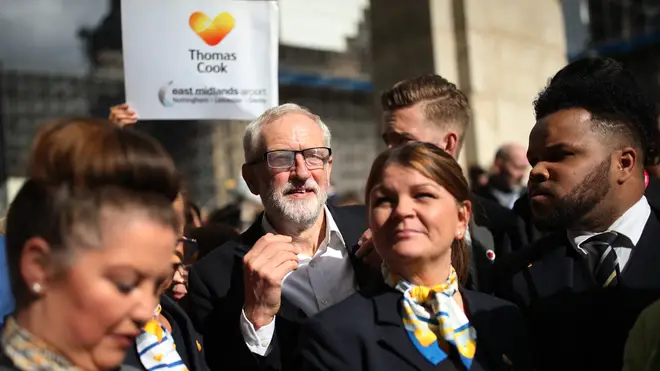 Ms Powell also called on the Government to expedite former Thomas Cook employees' redundancy pay and to recoup the "millions taken by the directors in the last few months".
Standing in for the Prime Minister who was delivering a speech to the Tory Party conference, First Secretary of State Dominic Raab replied: "I feel for anyone, whether it is people stranded abroad or people that have lost their jobs in relation to the Thomas Cook scenario."
Mr Raab said the Government's position is not to "bail out" or intervene with firms that are "unsustainable".
He added: "The bottom line is the way we create a healthier economy, the way we create jobs, is by making sure we've got the tax measures in place, you're not raising tax on businesses, and you're supporting the workers of this country, and that's what we're doing."
During the frontbench exchanges at PMQs, shadow home secretary Diane Abbott asked why the Government "sat idly by".
Mr Raab said "we didn't sit idly by" before highlighting efforts to bring British holidaymakers home.