John McDonnell says Prince Andrew should cooperate with authorities
19 November 2019, 09:18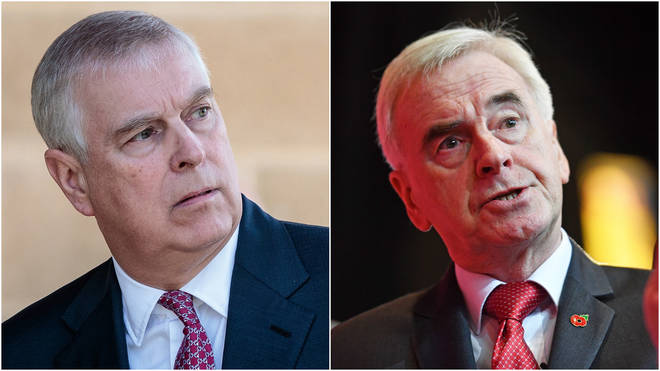 John McDonnell has told LBC News that Prince Andrew should "cooperate with all the relevant authorities," including the FBI.
Speaking to LBC's Political Editor Theo Usherwood he said, "this is about justice being served," adding if the Duke of York can help with that then it's important he does so.
When Theo asked if the FBI made an application to extradite Prince Andrew, Mr McDonnell said he didn't think it would come to that.
The Labour Shadow Chancellor said the "it may well have been a mistake" in the way the Royal answered some of the questions, and people didn't think he was as "forthright as he could be," but he could make up for that by speaking to the authorities.
Mr McDonnell said Prince Andrew comes across as somebody who "would do that," adding he thought behind the Prince's shell he thinks there's a "human being there who wants to help victims secure justice."
"I think the Royal family will want to ensure justice is served," Mr McDonnell said.
Prince Andrew has been dogged by rumours of his relationship with the convicted paedophile Jeffrey Epstein since the financier took his own life behind bars earlier this year.
But in an extraordinary televised interview, Prince Andrew said he "didn't know" about what Epstein had been doing, but admitted staying at his home for four days after his release from jail because it was "convenient."