Labour MP Rosie Duffield tells of domestic abuse she suffered in emotional speech
3 October 2019, 20:29
A Labour MP received a standing ovation after she shared her own experience of coercive control in a debate about the domestic abuse bill.
Canterbury MP Rosie Duffield has urged others to come forward if it is safe for them to do so, after sharing a personal account of coercive control in a relationship.
Ms Duffield said: "Abuse isn't just about those noticeable physical signs, sometimes there are no bruises.
"Abuse is very often all about control and power, it's about making themselves feel big or biggest, but that's not how abusers present themselves."
Ms Duffield described how the signs of coercive control are not apparent at the start of a relationship, but gradually start to build up and develop.
She told MPs: "It's not how they win your heart. It's not how they persuade you to meet them for a coffee, then go to a gig, then spend an evening snuggled up in front of a movie at their place."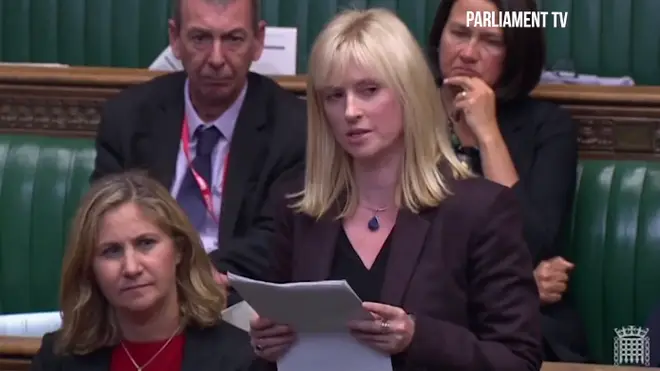 Ms Duffield went on to explain the day-to-day reality of coercive control on victims: "Every day is emotionally exhausting, working in a job that you love but putting on a brave face and pretending all is good, fine, wonderful in fact.
"Then the pretence and the public face start to drop completely. Being yelled at in the car with the windows down, no attempt to hide behaviour during constituency engagements. Humiliation and embarrassment now added to permanent trepidation and constant hurt."
She added: "Impossible to comprehend that this is the person who tells his family how much he loves you and longs to make you his wife.
Ms Duffield described leaving the relationship saying: "But one day you notice that you're smiling, that it's OK to laugh."
She urged others to come forward if they are suffering coercive control or other forms of abuse.
Ms Duffield said: "You realise that you've survived. That the brightest and most precious thing of all is to realise that you are loved and believed by friends, family and colleagues who believe in you and support you.
"So if anyone is watching and needs a friend, please reach out if it is safe to do so and please talk to any of us because we will be there and we will hold your hand."
Former Labour leader Harriet Harman paid tribute to Ms Duffield.
She said: "I too would like to pay tribute to my honourable friend, the member for Canterbury, because what she said just now will save lives. So we are incredibly proud of her today, and she should be incredibly proud of herself."
Thank you so much to everyone who's been so kind. It means an awful lot. Xx

— Rosie Duffield MP (@RosieDuffield1) October 2, 2019
House of Commons Speaker John Bercow called her speech "simultaneously as horrifying and as moving a contribution in the chamber as I have heard in my 22 years of membership of the house".
Former prime minister Theresa May, in her first speech since returning to the backbenches, had earlier urged MPs to seize the "once-in-a-generation opportunity" to pass the "landmark" new laws.
The domestic abuse bill seeks to give better protection to those fleeing violence by placing a new legal duty on councils to provide secure homes for them and their children.
It would also introduce the first legal government definition of domestic abuse, which would include economic abuse and controlling and manipulative non-physical behaviour.
A domestic abuse commissioner to champion survivors has also been proposed.