LBC Reporter Given Access To Kids' Football With No Checks
9 December 2016, 06:56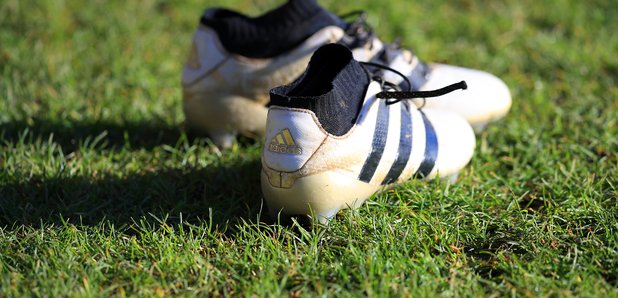 The safety of children at football clubs has been branded a 'disgrace' by leading child protection charity Kidscape after an LBC investigation found proper safety checks are not being carried out.
LBC reporter James Davies spent a morning volunteering with an under-10s team without a single check being made on his background.
He applied to help at several clubs who were advertising for volunteers, under his real name and using his actual CV, with a number of the positions posted on EssexFA.com.
Within 72 hours of applying for one role, our reporter was coaching boys aged between 9 and 10 in Essex:
At no stage was he asked to have a Criminal Record Check to make sure he was not a risk to children.
During his stint he was even left alone for several minutes with the group of children and trained alone with one 9-year old boy who was the first to arrive to training:
Other clubs - including a girls under-12s team and a boys under-6 side - have also invited our reporter down this coming weekend with no questions asked. One of the locations was to be at a school.
From the 10 applications submitted for volunteering positions, we have been invited to three training sessions, with just one football coach asking for a DBS certificate from the past year.
The Disclosure and Barring Service (DBS) helps employers make safer recruitment decisions and prevent unsuitable people from working with vulnerable groups, including children.
LBC first learnt about the opportunity after looking for volunteering roles online, with many of the positions advertised on EssexFA.com.
Our reporter applied for 10 volunteering positions, explaining in his application that he was keen to sign up, stating he had no real experience other than trials for one professional football club 13 years ago, when he was 15.

He applied for the roles using his correct name, contact details and CV and within 24 hours received an email from one under-10s team coach, who asked him to come to their training session that Saturday.

In one email the coach wrote: "I am looking for some help with my u10 team, are you available on Saturday mornings? We train from 10-11.30 at ******, they are a good group of boys, been together since they were 7, I get there about 9.30 to set up...We train over by the swimming pool carpark my number is ***** if you can't see me."

The club's website say they are a Charter Standard Community Club and their website stresses the safety of children is a key issue for them. They explicitly say all managers/coaches are (or are training to be) FA Level 1 coaching badge qualified, all are CRB checked and Emergency First Aid Qualified.

The organisation boasts active policies in health and safety and child protection and states they hold "current clear CRB checks".

The Football Association say the club should have followed their Safer Recruitment guidelines for best practise advice for grass roots clubs, outlined on their website.

The FA have told LBC: "The club should have clarified what skill you were there to offer as a volunteer and what experience you had related to this e.g. have you worked in a club previously. The context of your offer - short, mid or long term; proof of identity and references. They should have ensured you never worked unsupervised, and provided you with an existing club coach to work with introduce you to the club welfare officer and share the clubs safeguarding children policies and procedures. Having assessed your suitability as a potential coach they should have requested you complete an Enhanced FA CRC and asked you to complete the FA Safeguarding training. They should also have If you do not already hold an FA coaching qualification, ask you to complete this."

An FA source added: "Put simply this shouldn't have happened."

Our reporter travelled from west London to Essex last Saturday morning to meet the under-10 coach just 30-minutes before training started, to help set-up.

Once there, the coach, who had invited our reporter, told him: 'Get your boots on."

Before the training started he was briefed about what to do and shown a couple of diagrams of exercises he would be helping with. He was then asked to pump up the balls and entertain a nine-year old boy - the first to training - for 10 minutes while the coach marked out the pitch with cones and put up the goal.

James was then introduced to the boys by his name and told he was a volunteer. They were then told to be nice to our undercover reporter. One boy then asked if he was going to be their coach. The current coach said: "Maybe, let's see how he gets on."

During the morning our reporter was encouraged to interact with the children taking part in the session and to get actively involved in all the exercises.

The coach thanked him at the end of the two hour session and said: "You're welcome to come back whenever you want", while another coach said: "Come and help me with the under 6s."
Child protection charity Kidscape have praised LBC for highlighting the issue, saying: "Your investigation is chilling because we're told so often that things have improved and yet this blows a hole into it. It's very, very concerning because we know that predators and paedophiles will actually seek out opportunities, and where are there opportunities?
"Football clubs, swimming clubs and sports clubs of other kinds. Paedophiles will be drawn to where children are gathering.

"If your intention was to misuse children then this gives you an open door. It's like putting you into a sweetie shop. It's just horrendous. There is a duty of care and there is an expectation that every volunteer working with children should undergo a DBS check, it's mandatory. Any responsible organisation taking on volunteers or anyone in direct contact with children, and on their own with children, needs to be DBS checked because we know these loopholes are exactly what predators walk into.
"The FA or any club which caters for children as young as that needs to have that as part of their child-protection procedures and it needs to be enshrined in their policies. It's unbelievable. In this day and age when we've heard so much. It's not as if we don't know about these things. It's such negligence it's unbelievable.

"You have shown through your investigation that the guidelines aren't being adhered to. It's ok to produce guidelines but they're only as good as the people who put them into practise. It has to be monitored and the body that oversees all this needs to have checks. If everyone had been doing their jobs this wouldn't have happened.

"Predators, sex offenders, paedophiles, the thing they look for with huge energy is an opportunity. A predator – when introduced to new children - will be looking to discern a vulnerability or a child who needs a bit of extra affection or attention. That's where it starts. It's a process. Slowly but surely to attach to that child. Even the family could be groomed. A chat with the parents and they're put into a false sense of security. That is the huge concern. Giving the person the opportunity to endear themselves with a child, it's a sliding slope from then."

She added: "As a parent I would want to know what is in place to protect my child and all the children that attend the club. I would absolutely want to know that all the coaches and all those who come into contact with the children have a DBS check. Even then that only unearths convictions that are known about, not the iceberg that might lie underneath. I would want to know that there was ongoing monitoring and child protection training in place for the people who are in charge of my children."
In January it was revealed that the Met had a backlog of more than 68,000 for criminal record checks. People who had been offered jobs in sensitive roles, such as working with children or vulnerable people, are unable to start work unless the checks are completed. In March, the average waiting time for a DBS was 77 days.

When we contacted the Met they told us: "At time of writing, the MPS has 50,570 outstanding cases. This is down from approx 83,000 applications in April."