"Gibraltar Is Ours": Leicester Fans Clash With Spanish Police
13 April 2017, 07:30 | Updated: 13 April 2017, 07:48
Dramatic videos show the violent moment that Spanish police and Leicester fans clashed in Madrid, ahead of the English's team game.
Police used baton charges to clear parts of the Plaza Major, where fans had been drinking in the sunshine through the afternoon. Spanish police have said eight Leicester fans were "arrested for causing a mess" during the day.
Just saw the footage of some Leicester fans behaving despicably in Madrid. The few idiots ruin it for the decent majority. Sickening.

— Gary Lineker (@GaryLineker) April 12, 2017
Videos on social media show Leicester fans singing "Gibraltar is ours" and songs about the Battle of Britain.
@BBCSport Dortmund fans are offering Monaco fans places to stay, Leicester fans are causing trouble on the streets singing Gibraltar is ours! Morons

— Nic N (@NicJNo) April 13, 2017
Some fans are accusing the Spanish authorities of being too forceful in clamping down on what they say were "a couple of people who antagonised the police". Six police officers were reported hurt in the incidents.
Leicester fan @marklcfc1976 posted this photo saying it showed a man beaten by police:
Leicester fans in a square in Madrid chanting: "You Spanish bastards, Gibraltar is ours." That's the new post-Brexit "global Britain" there.

— David Conn (@david_conn) April 12, 2017
The video above shows blue smoke filling the square after flares were set off - it's reported that a baton charge from police shortly after left a number of Leicester fans with injuries.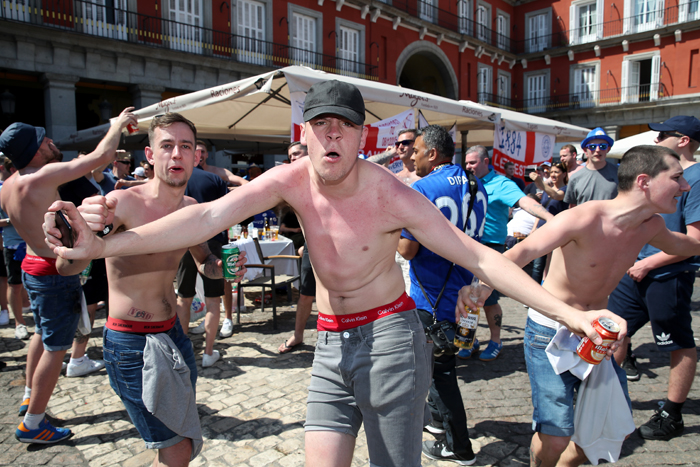 More to follow...