Life-saving bleeding control kits rolled out to public venues in Cheshire
11 February 2020, 06:43
Potentially life-saving 'Bleed Kits' are being handed out to community venues across Runcorn and Widnes to give the public the chance to carry out emergency first aid on stab victims.
They have been introduced by Cheshire Police in order to enable members of the public to prevent knife crime victims from bleeding to death, and training is being provided to ensure people know how to use the contents of the kit.
Chief Inspector Sarah Heath, the knife crime lead for Cheshire Constabulary, said: "A person can bleed to death in just five minutes if they are stabbed in the wrong place.
"It is essential to stem the loss of blood as soon as possible. Bleeding Control Kits enable members of the public to do this, with all types of wounds, before paramedics arrive. That can be the difference between life and death."
Last week, one of these kits was used to save the life of a 16-year-old boy who was stabbed during an incident outside Riverside College in Widnes - seven teenagers have been questioned in connection with the attack and since released on bail.
The bleeding control kits contain trauma bandages, tourniquets and adhesive chest seals to treat knife wounds or gunshots.
In November the City of London Police, along with the Daniel Baird Foundation rolled out bleeding control kits to hundreds of bars and pubs in the capital.
Hundreds of London bars will soon have bleeding control kits for knife crime victims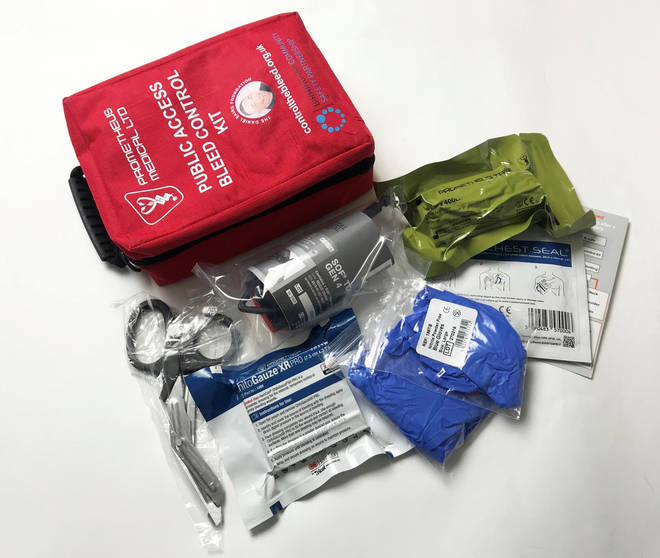 Joe Shelmerdine, from Prometheus Medical Ltd, is part of the team training people in how to use the kits, he said: "Our Bleeding Control Kits contain high quality, life-saving equipment and are widely used by ambulance trusts in the UK. They are very easy to use and extremely effective.
"They also include easy to follow instructions on what to do and what equipment to use with each type of wound.
"A kit is located at Riverside College in Widnes, and various members of its staff have been trained on how to use it. Other community venues in Halton will be following suit, and the kits can also be bought by members of the public online."
Chief Inspector Sarah Heath, added: "We have one of the lowest rates of knife crime in England, and Cheshire is one of the few counties in England and Wales that has seen a reduction in the number of knife-related offences committed in recent times.
"But we are no strangers to the devastating consequences of knife crime. The killings of 18-year-old Eddie O'Rourke in Runcorn and pub landlord Christian Thornton in Widnes over the past few years represent ultimate examples of why people shouldn't carry knives.
"As part of our fight against knife crime, we are funding the rolling out of the kits to community venues across Halton, as well as training to give people the confidence to use them."