Little girl's heartbreaking letter to Santa asks for "a home and some food for Christmas"
19 November 2019, 15:22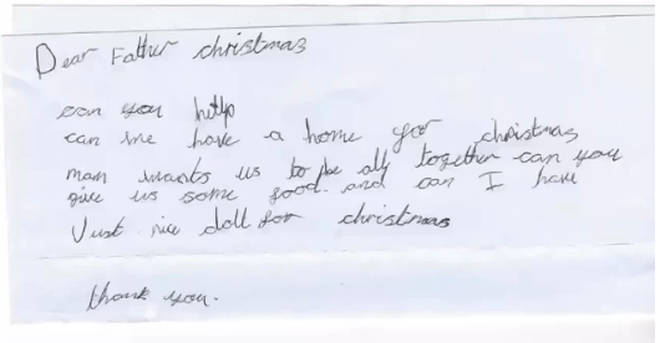 A seven-year-old girl from Liverpool has posted a heartbreaking letter to Santa asking for "a home and some food" for Christmas.
With the festive season fast approaching, the letter, posted at a grotto in Everton, serves as a reality check that many families will struggle during what is supposed to be the most magical time of the year.
The little girl wrote in her letter: "Dear Santa, can you help?
"Can we have a home for Christmas. Mum wants us all to be together. Can you give us some food?"
"And can I have just one doll for Christmas? Thank you."
Gerard Woodhouse is one of the leaders at the L6 Community Centre where the letter was posted, he told LBC News: "Isn't it sad that children are worrying about Christmas."
He continued: "It's a young child who at the moment is living with the grandparents because they lost the house.
"Mum is in a hostel and the children have gone with the grandparents.
"The children come here each day, and it must be a really upsetting feeling for a seven year old to be worried about Christmas day and them all being together, it's not right in 2019."
The L6 Centre is a place where children can socialise, do arts and crafts and even have a hot meal, but beyond that the centre provides laundrette facilities free of charge and operates a foodbank for families struggling to make ends meet.
Gerard said: "We're supposed to be a community centre but the last four years we've got more and more in to supporting families in poverty.
"It's sad, some of the people we see they're not even living day to day. They can't manage.
He continued: "Last year we supported over 15,000 people… this year we know it's going to be two or three times that.
"We are seeing children who are talking about Christmas and it's not like five years ago when they'd come in with a big list of things they want for Christmas. It's one or two things.
The team at the L6 Centre have invited politicians to come and spend time with them to witness the scale of the difficulties faced by so many families.
Gerard added: "It's so sad. If they could just see in London… come and spend a day with us, we won't bring actors in. Come round houses and see how people are living. I've never seen poverty like today. It's heartbreaking."
Since publicising the letter, more than £11,000 has been raised via a GoFundMe page with a substantial amount understood to have come from an anonymous local footballer.
Support the GoFundMe page here