London bus drivers raise thousands for driver killed in Orpington crash
1 November 2019, 16:55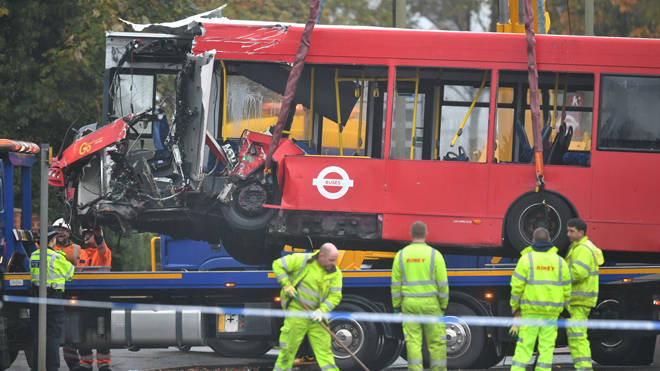 Bus drivers have begun raising funds for a fellow driver who was killed in a crash in south-east London.
Kenneth Matcham, 60, died and 15 bus passengers were injured when a Skoda pulled out of a side road in Orpington at around 10pm last night and collided with two buses.
Well-wishers want to raise £5,000 for Mr Matcham's family. Bus company Go Ahead has set up a fundraising page in his memory, which states: "We stand united in our grief and offer our condolences to Kenneth's family and friends."
Close to £4,000 has been donated so far.
Mr Matcham's daughter told the Daily Mail today: "He was a lovely man and life won't be the same without him. We'd gone to Turkey in June to celebrate him turning 60 and had a great time."
A driver was arrested at the scene on suspicion of causing death by dangerous driving and drug-driving.
Witnesses said the scene on Sevenoaks road was "carnage like nothing I've seen before."
"The house shook - it was like a bomb had gone off," the witness said.
"I ran out and down the road to help straight away - I was one of the first people there."
The man said an R11 bus had crashed into the wall of a house, and another, the 358, ended up on the pavement.
He added: "I jumped onto the bus, and lifted someone up who had broken their arm and leg.
"Four to five people had been thrown from the bus and were lying on the road, and the buses were destroyed... it was carnage like nothing I've ever seen before.
"There were all sorts of injuries, from cuts and grazes to people who couldn't move because of broken bones."
A 16-year-old boy, who could not move because of a back injury, was among those thrown from the bus, he said.
The man said he stayed with the teenager until emergency services came and helped call his parents.
A woman with a bouquet tearfully approached the police cordon on Sevenoaks Road on Friday morning and asked officers to place them near the crash.
Ten ambulance crews from London Ambulance Service and officers from London Fire Brigade helped rescue and treat the casualties.
A crane removed the two buses from the road on Friday morning.
A spokesman for Go Head London said: "Mr Matcham was employed by Go-Ahead London from September 2007 at our Orpington Garage, where he was a friendly and loyal colleague, who will be sadly missed. 
"We are liaising with his next of kin at this difficult time."
Claire Mann, Director of Bus Operations at TfL, said: "Our sympathies go out to the family and friends of our bus driver colleague who tragically died in a traffic collision in Orpington last night, and our thoughts are with all of those injured in the incident.
"We will do all that we can to support them at this time. We are working with the bus operator GoAhead and the Met Police to ensure we find out what happened."