Man, 28, charged after appearing to relieve himself by PC Palmer memorial
14 June 2020, 09:42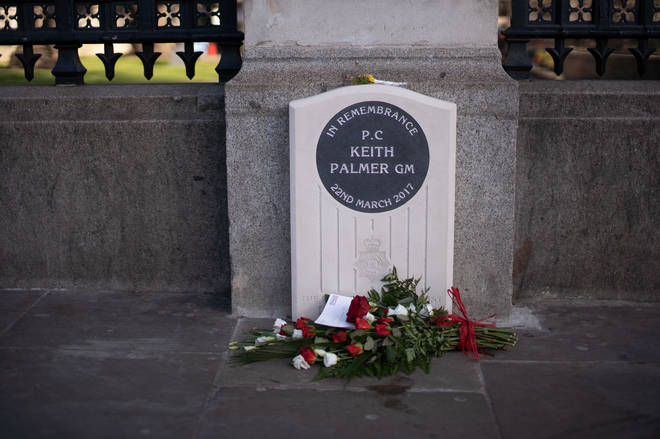 A 28-year-old man has been charged with "outraging public decency" after appearing to relieve himself by the memorial to Pc Palmer.
The Met Police said, Andrew Banks, of Stanstead, Essex, was charged with outraging public decency after someone was photographed apparently urinating near the plaque dedicated to Pc Keith Palmer.
The "disgusting and abhorrent" incident is believed to have taken place on Saturday afternoon amid violent protests in the capital.
After presenting himself at a police station in Essex, the man is now currently in custody and will appear before Westminster Magistrates Court on Monday, June 15.
Pc Palmer died in the line of duty while protecting Parliament from a terrorist attack on 22 March 2017.
Speaking yesterday in response to an image circulating on social media, Commander Bas Javid said: "We are aware of a disgusting and abhorrent image circulating on social media of a man appearing to urinate on a memorial to PC Palmer.
"I feel for PC Palmer's family, friends and colleagues.
"We have immediately launched an investigation, and will gather all the evidence available to us and take appropriate action."
Absolute shame on this man.

Of all the images to emerge over these few testing days I find this one of most abhorrent.

Please help identify him. pic.twitter.com/8ydcNmTWrN

— Tobias Ellwood MP (@Tobias_Ellwood) June 13, 2020
MP Tobias Ellwood, who tried to save the life of Keith Palmer, posted online yesterday: "Absolute shame on this man.
"Of all the images to emerge over these few testing days I find this one of most abhorrent. Please help identify him."
On Sunday, Mr Ellwood said the man should come forward and apologise.
When asked whether he thought the urinating man may not have noticed the memorial, Mr Ellwood said: "I don't agree with that at all.
"This is the gates of Westminster, the most iconic symbol of democracy in the world next to a monument for Pc Keith Palmer."
Speaking to Sky News' Sophy Ridge on Sunday show, Shadow Home Secretary Nick Thomas-Symonds said he "was extremely disturbed by the scenes yesterday which were completely and utterly unacceptable."
He added: "I want to say a particular word as well about that awful scene of someone urinating next to Pc Keith Palmer's memorial.
"Absolutely despicable behaviour and I hope that individual is identified and brought to justice."
Speaking about events on Saturday, Home Secretary Priti Patel said: "We have seen some shameful scenes today, including the desecration of Pc Keith Palmer's memorial in Parliament, in Westminster Square, and quite frankly that is shameful, that is absolutely appalling and shameful."
As demonstrators took to the streets of central London on Saturday, one individual was seen relieving himself next to a plaque honouring the Pc.
Tensions were flaring in the capital with rival protests groups taking part in action amid a national debate over the protection and desecration of historical monuments that developed following Black Lives Matter protests.