Man fighting for life after falling on to the tracks at Oxford Circus station
20 November 2019, 21:12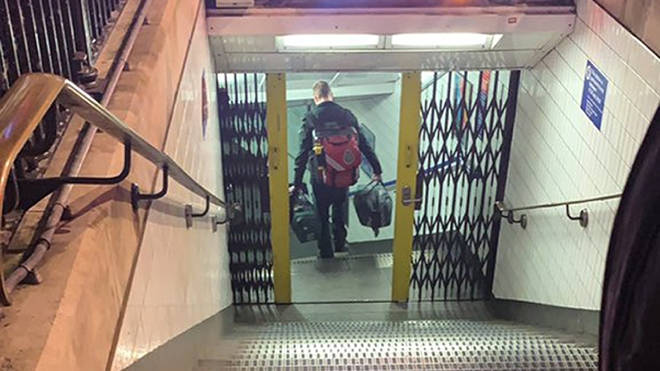 A commuter is still in a critical condition after suffering a "medical episode" and falling on to the tracks at Oxford Circus station last night.
British Transport Police were called to the busy London Underground station during rush hour following reports of a man being hit by a train on the Victoria Line.
The station was temporarily evacuated to allow authorities to deal with the incident.
Paramedics arrived at the scene shortly after 5:30pm and took the man to a major trauma centre after he suffered serious leg injuries.
British Transport Police London confirmed the incident was not being treated as suspicious.
The Victoria Line was suspended with trains being cancelled and fellow commuters faced major delays.
We were called to #OxfordCircus earlier this evening to a report of a casualty on the track.

It's believed a man suffered a medical episode and fell onto the tracks. He is in a critical condition in hospital.

Thank you for your patience while we responded to this incident. pic.twitter.com/ttCKUn06uc

— British Transport Police (@BTP) November 20, 2019
Former England cricketer Ebony Rainford-Brent, who witnessed the incident, told reporters the platform was the "most packed" she had ever seen in her 35 years living in London.
She said: "As the train was coming in he was at the very front . . . it looked like he swivelled and lost his balance, it looked like a fall.
"He sort of fell on his back. The way it looked to me he could have almost froze."
She explained the incident on her Twitter account, saying she saw the man fall under the tube train right in front of her face.
"I cannot believe what I have just witnessed. Absolutely horrific scenes at Oxford Circus and I just watched a man fall under the tube 2m in front of me.
"@TfL this is UNACCEPTABLE that in one of the most sophisticated cities in the world stations are allowed to get this RAMMED."
2. People pushing & shoving each other & putting life at risk just trying to get home from work. @TfL something needs to be DONE URGENTLY to create safety. Sending prayers out to the family & friends of the young man, some horrible conversations to be had. Still shaking. So sad https://t.co/gtEdw6lZ4A

— Ebony Rainford-Brent (@ejrainfordbrent) November 20, 2019
Ms Rainford-Brent described the man as being in his mid-to-late 20s, with dark hair and wearing a dark jacket.
A London Ambulance Service spokesman added: "We sent a number of resources to the scene including an incident response officer and our hazardous area response team.
"We also dispatched a trauma team from London's Air Ambulance.
"Crews treated a man at the scene with leg injuries and took him to a major trauma centre by road."
At 8:57 pm the Victoria Line's official Twitter account confirmed the entire line is now running with minor delays.
Oxford Street was closed westbound and Regent Street had one lane blocked northbound due to the emergency services incident.