Man 'pours petrol on himself' in front of Houses of Parliament in Westminster
1 October 2019, 11:02
A man has been taken into police custody after allegedly pouring petrol over himself outside the gates of Parliament.
Pictures posted to social media show the man being held my multiple officers.
Witnesses claimed he poured the liquid from a two-litre coca-cola bottle before police sprang into action.
The man was then doused with a fire extinguisher.
A large poster which said "We Voted Leave" was also seen close to the incident - although it is not know if this was in anyway connected.
MP Huw Merriman tweeted: "Man next to me at Parliament's carriage gates appears to have poured (what smells like) petrol on himself.
"Incredibly brave response from police, who are now helping him.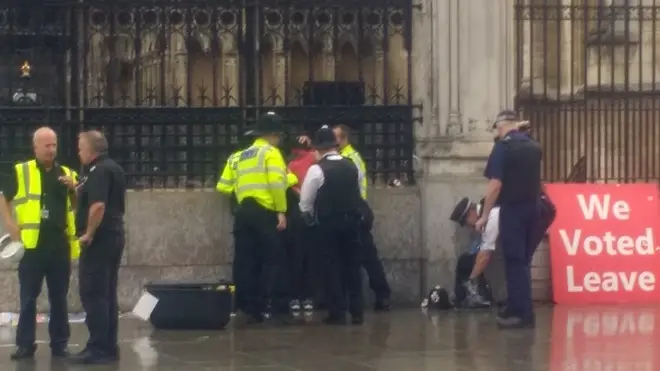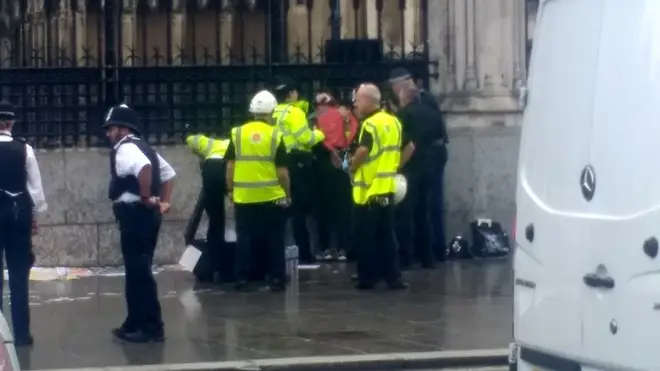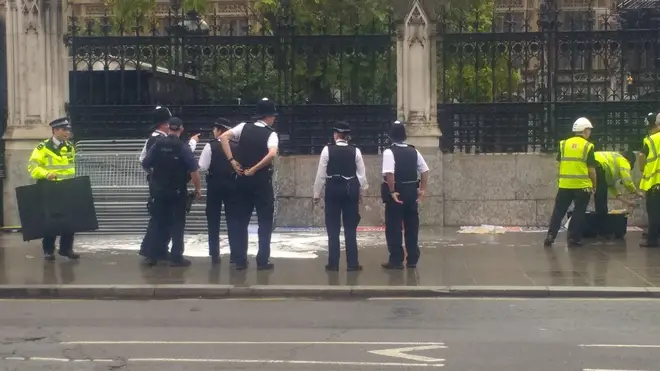 Twitter account LondonResisters tweeted: "Incident at #Parliament. Police have closed Carriage Gate and someone has been arrested.
"Rumor someone's thrown petrol, can smell it from the other side of the road, one person in red jacket being held by the police!"
The Met said: "A man was detained in Parliament Square, Westminster, at approx. 10:45hrs today after dousing himself with what appeared to be a flammable liquid.
"No injuries. LAS are on scene and he is currently being assessed."