Four arrested on suspicion of attempted murder during police raid in Abbey Wood
8 April 2020, 04:54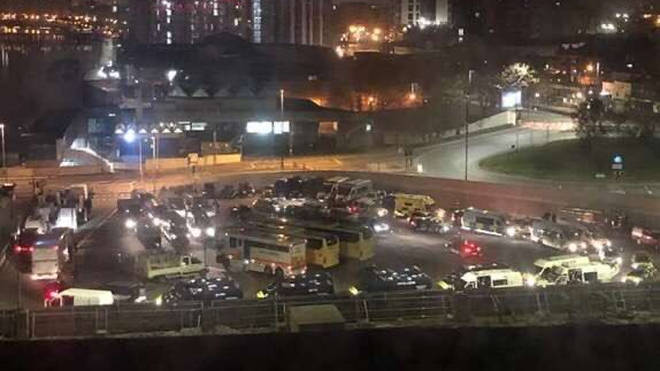 Three men and a teenager have been arrested on suspicion of attempted murder as part of a police operation in south-east London as witnesses reported hearing what sounded like a "massive explosion" and "gunshots".
Police have arrested the four during a series of raids across Greenwich, targeting those believed to be in possession of firearms, drugs and associated with serious crime.
Scotland Yard said the arrests were the culmination of a "long-running proactive investigation launched following the attempted murder of a 33-year-old man."
A spokesperson also said the raids were in response to reports of violent offending, including firearms offences, in the local area over the last six months.
Officers from Greenwich, executed six warrants at a site in Abbeywood, SE2 and two other addresses in Combwell Crescent, SE2 and West Parkside, SE10.
Officers from the Specialist Firearms Command and Territorial Support Group assisted in the raids.
Four males, aged 56, 22, 22 and 14, were arrested on suspicion of attempted murder - and searches of the properties are continuing.
Worried residents of Abbey Wood SE2 tweeted their concerns, one said he was woken by an "explosion that shook the house" while online footage shows a helicopter hovering over the area.
Several locals said police were raiding a traveller site.
Local resident Neil Jenman said: "Not on the night shift, but have just been woken up by a massive police incident in Abbey Wood, SE London. Not sure what it is yet though."
One image posted on Twitter appears to show a large number of emergency service vehicles at a car park in the area.
Detective Superintendent Andy Furphy, from Greenwich CID said: "The work of officers today has meant that violent individuals are taken off our streets; I hope it demonstrates our absolute ongoing commitment in bearing down on those intent on causing violence.
"Our proactive operations will continue and will be tireless and unwavering.
"We will continue to work with colleagues at the Royal Borough of Greenwich to challenge crime."
Massive explosion, multiple gunshots, several unmarked vans outside my door, armed police all around my block and this...
Little worried, anyone know what's going on at the traveler site in Abbeywood? pic.twitter.com/XFriJQmwuk

— PK (@PK7x2) April 8, 2020