Mental health website crashes after royal endorsement
7 October 2019, 23:44
An advert narrated by the Dukes and Duchesses of Cambridge and Sussex for a mental health campaign led to a surge of traffic which crashed a charity website.
The video featuring the royals is an initiative from Public Health England (PHE) and the NHS to empower people to manage the early symptoms of poor mental health.
William, Kate, Harry and Meghan lent their voices to the advert in order to boost its reach.
However, within minutes of its broadcast the Every Mind Matters charity's website crashed because of the surge in traffic.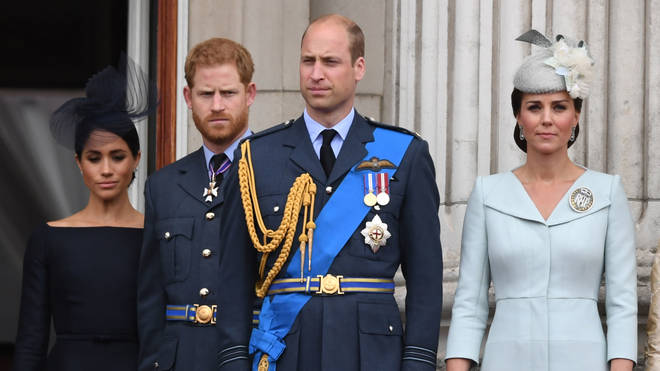 The site was only temporarily down, with a spokeswoman for PHE saying: "We had technicians working on it immediately and we're back up and running now. We think it was due to high [traffic]."
The video featured several famous faces including Andrew Flintoff, Davina McCall and Sir Bradley Wiggins whilst the royal quartet narrated over the top.
The Duke of Cambridge begun: "Everyone knows that feeling, when life gets on top of us. All over the country, millions of us face challenges to our mental health - at all ages - at all intensities, and for all sorts of reasons.
"We feel stressed, low, anxious, or have trouble sleeping. Me, you ..."
Prince Harry continues: "...your brother, your mother, your colleague, or your neighbour. Waiting, wondering, hoping, hurting.
"We think there's nothing to be done. Nothing we can do about it."
Meghan then says: "But that's so wrong. There are things we can do. From today, there's a new way to help turn things around. Every Mind Matters will show you simple ways to look after your mental health."
Kate adds: "It'll get you started with a free online plan designed to help you deal with stress, boost your mood, improve your sleep and feel more in control."
Health officials hope the platform will empower people to manage their mental health and prevent their problems from escalating.
It gives users the chance to take a health quiz with the results creating a personalised "mind plan" that offers tips for dealing with anxiety, sleep and stress.
The platform was endorsed by the Royal College of GPs who hope it will reduce pressure on clinical services and free up capacity.
A recent PHE survey spoke with more than 3,000 adults in England and found that eight in 10 respondents had experienced early signs of poor mental health in the last year.
More than 50 per cent of those who took part used coping mechanisms such as smoking, drinking or eating to combat their mental state with more than a quarter waiting longer than half a year before taking action.
Health Secretary Matt Hancock said the project harnesses the "power of modern technology to do good when we know it also can help contribute to some of these problems".
NHS England's national mental health director Claire Murdoch said the campaign "absolutely signals a sea change in awareness and attitudes to mental health".