Metal Barriers Thrown As Bouncers And Partygoers Brawl Outside Nightclub
23 October 2018, 13:22 | Updated: 23 October 2018, 13:27
Metal barriers were thrown outside a nightclub when a mass brawl between partygoers and bouncers spiralled out of control.
The violent incident was filmed by bystanders as it erupted outside Kooky nightclub in Doncaster in the early hours of 14th October.
South Yorkshire Police said a 20-year-old man and a woman, 20, were arrested on suspicion of violent disorder.
Video of the ruck shows what appears to be a clash between bouncers and nightclub-goers.
A woman was pushed to the ground by one man as she tried to calm the situation down.
Metal crowd control barriers were thrown towards the bouncers, before a man picked up another and threw it across the street.
One scared onlooker could be heard shouting: "Where's the f****** police?".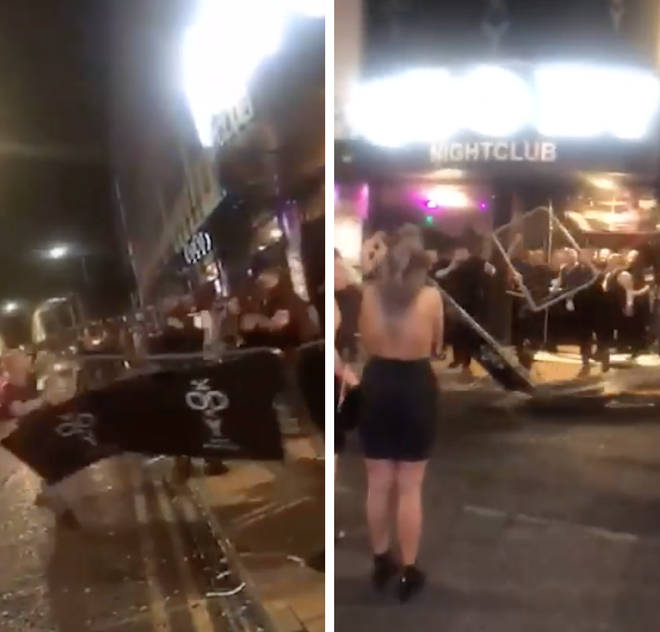 More barriers were dragged across the street as police sirens were heard in the distance.
As the assailants tried to flee, a number of bouncers chased after them.
Footage shows a police officers pinning the suspects to the ground.
It's been widely condemned by many of the 500,000 viewers who have watched it on social media.
One wrote: "Bunch of cowards out for a row. Dunt [sic] make you hard throwing a barrier and running off. W******".
A spokesperson for South Yorkshire Police said that investigations are continuing for the incident.