Morning news briefing, Wednesday 11 December
11 December 2019, 06:39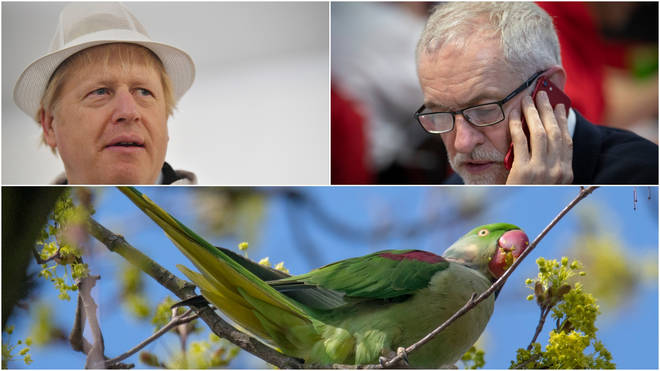 Good morning, here's all the UK and world news you're waking up to on Wednesday morning, just 24 hours before the polls open in the UK general election.
EJ here, bringing you all the news and views you need to kickstart your day. It's hump day and I hope this briefing helps you get through it easier.
Just as a reminder
Election: 1 Day
Christmas: 14 Days
General Election - 24 Hours To Go
The final poll before the election has predicted a 28 seat majority for Boris Johnson's Conservative Party, which would be the largest Tory majority since the Thatcher years.
Friday the 13th will see the next Prime Minister walk through the doors of Downing Street, and then promptly come back out again to speak to the press on the steps of Number 10.
If the YouGov MRP poll is correct then it will be Boris returning home, while Jeremy Corbyn will have to stay in Islington.
But, it might not be that simple, experts have warned of the threat of a hung Parliament, as with any poll there is always a margin of error, and also the unknown impact of tactical voting.
What is tactical voting? My colleague Megan has all the answers you need.
Tuesday's election campaigning kicked off with the usual round of senior party figures being trotted out to visit radio and TV studios across the nation.
The General Election "should be fought upon the high ground and the big issues", Justice Secretary Robert Buckland has said, after Boris Johnson came under fire for his apparent lack of empathy for a four-year-old boy left sleeping on a hospital floor.
Asked about A&E waiting times, he added: "I think to glibly say that we have failed actually is rather insulting to all the hard-working people in our NHS who work day and night in A&E and other departments to provide a first-class service, the truth is that... demand in the NHS continues to grow."
Meanwhile Labour had its own issues, Shadow health secretary Jon Ashworth said he was "stitched-up" by a Tory-supporting friend after his comments calling Labour's election chances "dire" were leaked.
Mr Ashworth was recorded saying the situation facing Labour was "abysmal" because voters "can't stand Corbyn" and think the party has "blocked Brexit".
He told LBC during an evening phone-in on Tuesday that he had been "taking the p***" with his friend.
Trump...
Two articles of impeachment have been introduced by the Democrats, charging President Donald Trump with abuse of power and obstruction of Congress.
The charges, unveiled on Tuesday, are related to the president allegedly putting pressure on Ukraine to announce investigations into his political rivals as he withheld aid to the country.
House Judiciary Committee Chair Jerry Nadler made the announcement on Tuesday.
He told a press conference: "[Trump] endangers our democracy, he endangers our national security.
"Our next election is at risk. That is why we must act now."
New Zealand Volcano
British people travelling in New Zealand are being asked to contact their family and friends to let them know they are safe.
Two British women are known to have been injured following the eruption on White Island.
The British High Commission in New Zealand said they are supporting the British nationals.
A statement added: "If you are a Brit travelling in New Zealand - reach out to friends and family to let them know you are safe and well."
New Zealand's chief coroner has declared the White Island eruption a "mass fatality incident".
Weather
Headline: Many areas cold and showery today.
Today: Brighter than yesterday but another unsettled day with showers affecting most places at times, especially northern and western UK. Showers will be heavy at times and wintry on hills. Some eastern parts may stay dry. Cold and windy.
Tonight: Cold and frosty with showers becoming confined to northern and western Scotland and northwest England. During the early hours, more persistent rain will reach Northern Ireland, Wales and southwest England.
And Finally...
Scientists believe they have busted the myths that parakeets were introduced to the UK by Jimi Hendrix, or during the filming of a Humphrey Bogart film.
Using geographic profiling scientists mapped half a century of sightings of the bright green birds (Psittacula krameri).
They found no evidence to support any of the myths surrounding the birds' origins in the UK, according to the study published in the Journal of Zoology.
The brightly-coloured bird has been in Britain for decades, although it is unclear how they were first introduced.
One theory is they were refugees from the film set of The African Queen, shot in Ealing in 1951, while another is that a pair were released by Hendrix on Carnaby Street, central London, in the 1960s.
Another theory suggests the winged-creatures kept at Syon Park escaped in the 1970s when a plane crashed through the aviary roof, while another blames damage to aviaries during the Great Storm of 1987.
This is despite sightings dating back to the 1869s, scientists say.
That's it, you're up to date. I will be back tomorrow, but things may be a little different because of the election. Have a great day, EJ.