Mumps cases sweep universities with anti-vaxxers blamed for outbreak
14 February 2020, 13:46
Mumps cases have swept university campuses to hit their highest level in a decade, with anti-vax campaigners blamed for the outbreak.
A spike in cases in universities and colleges saw 5,042 diagnoses of the viral illness last year, four times the level in 2018.
It has prompted health officials to urge the public to get both parts of the MMR vaccine.
Public Health England said the two injections were the best - although not a complete - defence against mumps, and those who missed out on receiving it are behind the rise.
The illness causes painful swollen facial glands, dubbed a "hamster face", and other symptoms include headaches, joint pains and high temperature.
It is contagious and has no cure, but usually disappears in one to two weeks.
Health Secretary Matt Hancock warned the spike stems from misinformation.
"The rise in mumps cases is alarming and yet another example of the long-term damage caused by anti-vax information," he said.
PHE explained: "Many of the cases in 2019 were seen in the so-called 'Wakefield cohorts' – young adults born in the late nineties and early 2000s who missed out on the MMR vaccine when they were children."
Michael Addison, a second-year Law student at the University of Nottingham got mumps in March 2019 while in halls.
He was the last of at least six students in his block to become infected after the illness spread through flats - despite all of them having the full MMR vaccine.
"I felt really lethargic and under the weather for a couple of weeks," he told LBC News. "One side of my face was massive to the extent where you can feel it's a weight."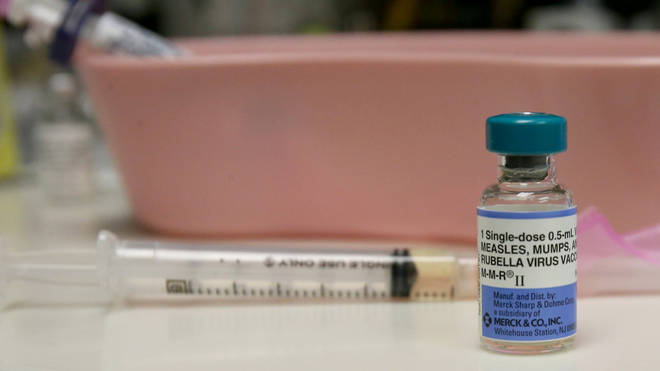 Dr Vanessa Saliba, consultant epidemiologist at PHE, urged students it is "never too late to catch up".
"We encourage all students and young people who may have missed out on their MMR vaccine in the past to contact their GP practice and get up to date as soon as possible," she said.
Even before the MMR vaccine, eight out of ten people infected were children of school age. At the time it caused around five deaths annually, mainly after swelling on the brain.
Rogue research by the disgraced doctor Andrew Wakefield, since discredited, which claimed there was a link between MMR and autism may have influenced the Wakefield cohort's decision to bypass it, officials admit.