Croydon tram crash: No charges brought against driver
31 October 2019, 13:05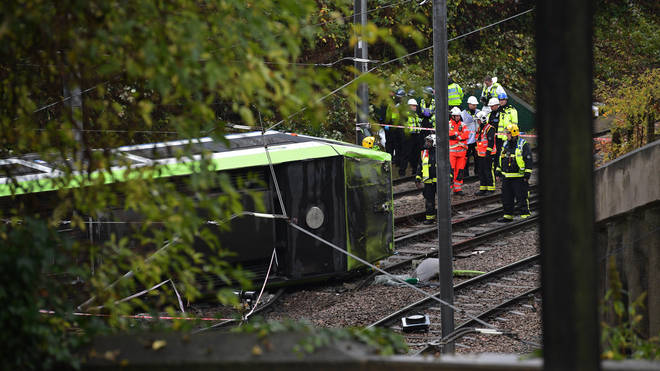 The driver of a tram which crashed and killed seven people in Croydon will not face any charges due to insufficient evidence, the Crown Prosecution Service has said.
Another 62 people were injured after the tram came off the tracks at almost four times the speed limit near Sandilands tram stop on 9 November 2016.
Alfred Doris, who was the driver at the time, was initially arrested on suspicion of manslaughter but later released.
Detective Superintendent Gary Richardson, who led the British Transport Police investigation, said: "For the past three years, my team have been working to uncover exactly what happened on the morning of 9 November 2016.
"This has involved simulating the circumstances of the derailment, speaking with hundreds of witnesses and collecting thousands of individual pieces of evidence. It has been a complex investigation undertaken by the force.
"We know that this latest update may not be the news that many, including the family members who lost loved ones, had hoped for.
Breaking: I've been told no charges are being brought against the driver, nor any companies involved in the 2016 Croydon tram crash. Seven people died, 62 injured. Not enough evidence. @LBC pic.twitter.com/FTXf1OMEOy

— Rachael Venables (@rachaelvenables) October 31, 2019
"But we are satisfied that every scrap of possible evidence has been scrutinised and, after lengthy consultation with the Crown Prosecution Service, it has been concluded that the threshold to bring charges of manslaughter against the tram driver, Transport for London and Tram Operations Ltd, have not been met."
Seven people were killed and 51 were injured in the incident, which the Rail Accident Investigation Branch (RAIB) concluded was likely due to the driver temporarily losing awareness - they suggest he may have fallen into a "microsleep" for up to 49 seconds.