Extinction Rebellion protester, 91, arrested outside Cabinet Office
9 October 2019, 15:31
A 91-year-old was among 28 Extinction Rebellion protestors to have been arrested today during the group's "Autumn Uprising".
Footage taken by LBC reporter Matthew Thompson showed nonagenarian 'John' being taken into police custody near the Cabinet Office in central London.
He is said to have been arrested after "deliberately sitting somewhere he was told not to."
Fellow activists who gathered around him shouted out "We love you" as he was carefully loaded into the back of a police vehicle.
As John was being led away by police he was asked: "How are you feeling, John?" to which he replied "Not too bad."
Other elderly protesters were arrested outside Downing Street this morning, as the protests entered their third day.
The total arrest number stands at 583, with the figure expected to rise as the demonstration progresses.
Elsewhere, tents remained on Horse Guards Road, Marsham Street and near to Parliament Square, despite rain and an increased police presence.
Mothers also staged a mass breastfeeding near Parliament Square, with hundreds of woman fed their babes outside the Queen Elizabeth II centre, to "plead for the lives" of their children.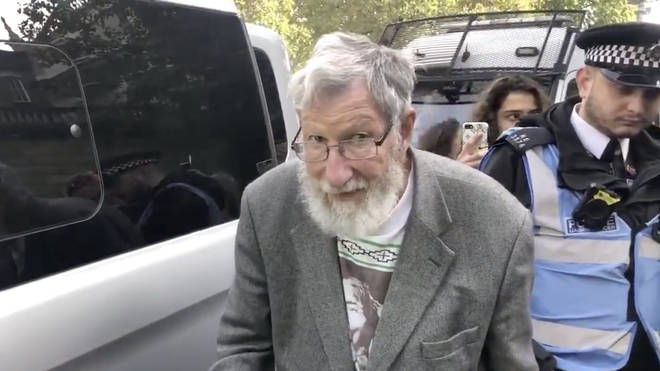 Lorna Greenwood, 32, who organised the event, said: "We're bringing the youngest lives who will be affected by the climate crisis to the heart of Westminster."
One mother, Anna Warrington, 36, arrived to feed her nine-month-old twins, Mathilda and Aubrey, who she carried in a double sling.
Ms Warrington, a doctor from London, said: "Women like me with little babies have come along to highlight the crisis the planet is in, that our children have to live through.
"In 50 years our children are going to inherit a planet that is so different. They can't have the lives and the childhood that I had."
A procession of police-escorted buggies made its way down Whitehall, as hundreds of mothers headed to Downing Street to continue their breastfeeding protest.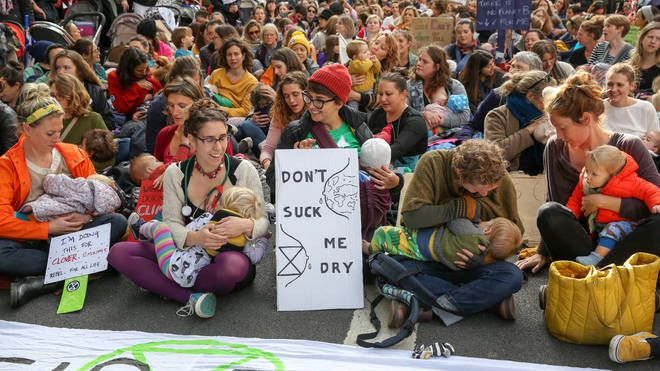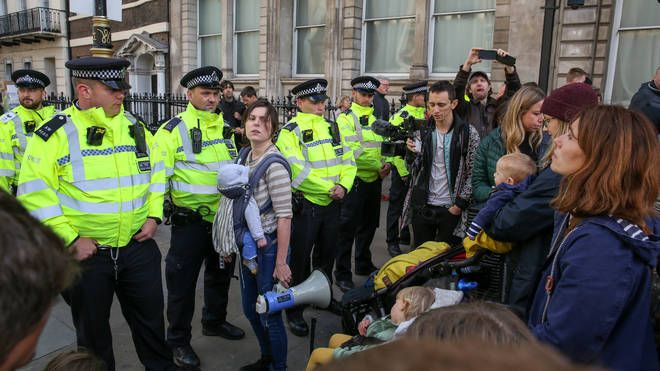 The parade was momentarily stopped by officers at the end of the street, who refused to allow the prams through, creating a standoff between police and parents.
But the rows of mothers eventually settled next to the Cenotaph, just yards from Number 10, to breast and bottle-feed their children, eliciting an emotional response from onlookers.
Boris Johnson's father Stanley Johnson has said that being branded an "uncooperative crusty" by his son was a "tremendous compliment".
Mr Johnson Snr spoke at an Extinction Rebellion event in Trafalgar Square on Wednesday in front of a substantial crowd.
He said: "I'm showing up here because I think what they [Extinction Rebellion] are doing is extremely important. From tiny acorns, big movements spring.
"We have been moving far too slowly on the climate change issue.
"I regard it as a tremendous compliment to be called an uncooperative crusty, that was a remark made in humour."
Asked whether the protests had affected the Johnson family, Mr Johnson Snr said that they remained "totally united".
"As far as climate change is concerned the family dynamic would be totally united. I don't believe there is a single dissenting voice in the Johnson family.
"Don't forget we grew up in the country, we grew up on Exmoor, nature is in our blood."