8 people seriously injured after double decker bus overturns in Devon
5 October 2019, 11:46
A 'major incident' has been declared after a double decker bus turned over on a busy road in Devon.
Devon and Cornwall Police say that all emergency services, including an air ambulance, are responding to the crash on the A385 near Totnes that happened at around 11am this morning.
The force confirmed that eight passengers have been sent to a number of hospitals with "potentially serious injuries".
They confirmed there were 54 passengers on the bus, as well as the driver.
Police said 37 people were injured in the crash, eight of which were serious.
People have been sent to Bristol, Plymouth and Torbay hospitals.
Several uninjured passengers have been taken to the a nearby bus station and library in Paignton for support.
A police spokesperson said: "All casualties have left the location however the road will remain closed for foreseeable future as investigative work continues at the scene.
"Officers from the serious collisions investigation unit remain at the scene and their enquiries continue.
"We can confirm that the driver of the bus has not been arrested, but he is helping police with our investigations into this incident."
Road closures have been put in place Berry Pomeroy RAB and police are advising the public to stay clear of the incident.
A spokesperson on behalf of the blue light services who have been involved in this operation, said: "Following the incident near Lombcrombe Cross at around 11am today, 37 people sustained injuries, of which eight people are
described as having potentially seriously injuries."
"Those injured have been conveyed to Bristol, Exeter, Torbay, Derriford, and Newton Abbott for treatment and ongoing assessment by medical professionals; All who were sent to Newton Abbott Hospital have since been discharged."
"In addition, 10 further people were assessed and supported at Paignton library by police and medical professionals, but did not require any further medical treatment."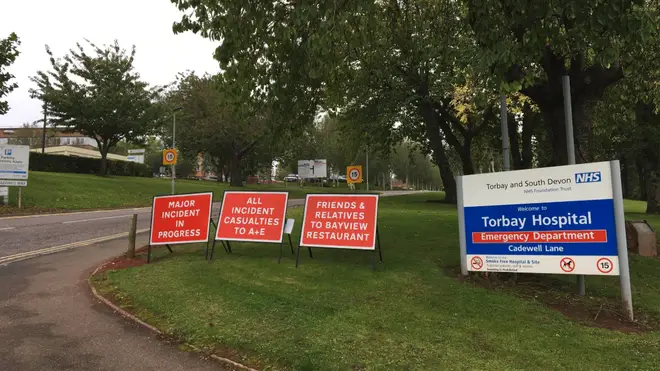 Liberal Democrat MP for Totnes, Sarah Wollaston, said: "Dreadful news, thank you to all our emergency services responding in difficult conditions."
Local residents have reportedly been handing out flasks and blankets to the passengers.
A nearby resident told LBC: "We heard a bit of commotion outside and there were lots of sirens, there seemed to be sirens coming and then there were police cars and then there were more police cars.
"Then there was one fire engine, then a second fire engine, then a third fire engine, and they just seemed to keep coming."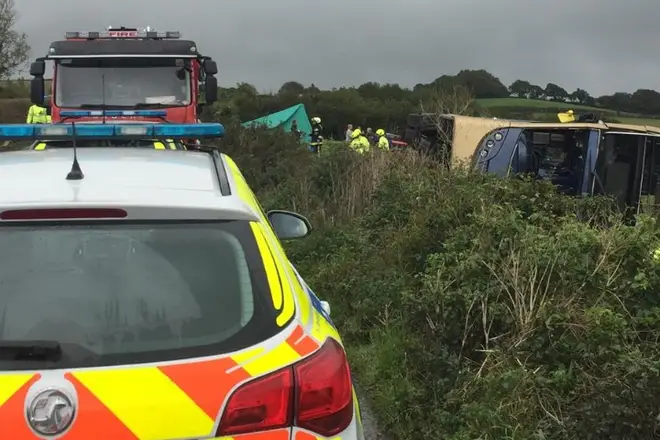 A spokesman for Stagecoach South West confirmed the incident, saying their "immediate thoughts are for those involved".
"We are helping the emergency services in any way that we can.
"Safety is our absolute priority and we will be assisting the investigation into the circumstances involved in the incident."
Police say that road closures along the A38 will remain in place until further announcements.