Man who was stuck up 290ft chimney has died, police confirm
28 October 2019, 09:37
A man who was stuck upside down on top of a 290ft chimney in Carlisle for over 12 hours has died, police have said.
Paramedics pronounced the man who was in his 50s and from Carlisle as dead on the scene at 4:46pm, Cumbria Police confirmed.
A police statement said: "All agencies worked as quickly as possible to try and rescue the man.
"The thoughts of the emergency services and partners are with the family and friends of the man.
"An investigation will commence into the circumstances into how and why the man was on the chimney."
Emergency services were working to free the man from the top of Dixon's chimney since the early hours, but due to the "precarious" position it proved to be difficult.
The man was released by rescue crews from the structure's peak shortly before 5pm.
Before being released police said the man was showing "no signs of life".
Superintendent Matt Kennerley of Cumbria Police said emergency services were "working tirelessly" to bring him down.
The identity of the man is known and officers are supporting his family, police added.
A cherry-picker, or aerial work platform, was called for by Cumbria Fire and Rescue Service to help get the man down safely.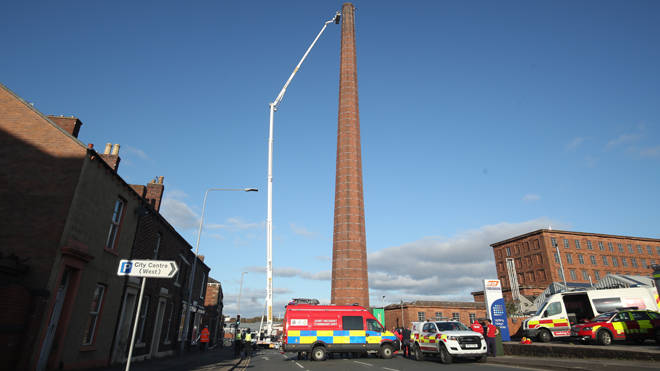 Earlier attempts to rescue the man using a helicopter had failed.
Superintendent Kennerley added: "So far the multi-agency response has seen us utilise technology including drones."
"A helicopter has been used to try to rescue the man and efforts were made to try to drop a technical rescue team onto the chimney to rescue him.
"These two attempts have not been successful so far due to concerns over how securely the man is attached to the ladder at the top of the chimney - and the potential danger of back-drafts from the helicopter."
Superintendent Matt Kennerley said the man had "stopped responding" after being stuck there since the small hours of this morning.
A witness posted: "Poor man still stuck at Dixon chimney. Police have been trying to bring him down since 2:50 am but no luck so far. It just goes on to show that carlisle city council needs to be more resourceful when it comes to handling emergencies like this."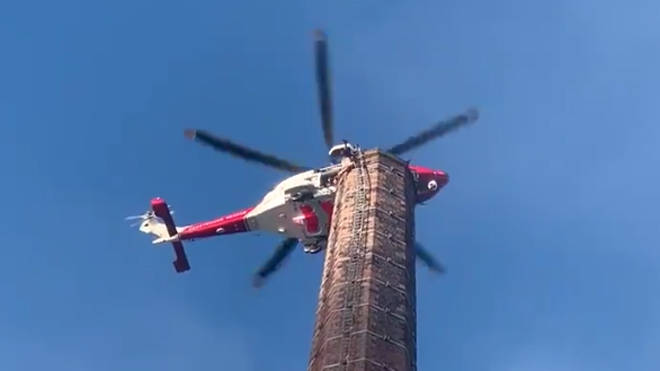 Roads around the structure have been closed.
Shouts and wailing could be heard coming from the chimney in the early hours of this morning before police arrived on the scene.
In a statement Cumbria Police said: "Police are continuing to deal with an incident at Dixon's Chimney, Carlisle.
"Officers became aware of a man trapped at height in the area following a call to police.
"Officers are supporting Cumbria Fire and Rescue Service and other partner agencies to attempt to free the man safely.
"The road is currently closed at Stanhope Road, Charlotte Street and Shaddongate where it meets Bridge Street (A595).
"The public are asked to avoid the area."