Protesters blockade London's Billingsgate Fish Market
12 October 2019, 07:50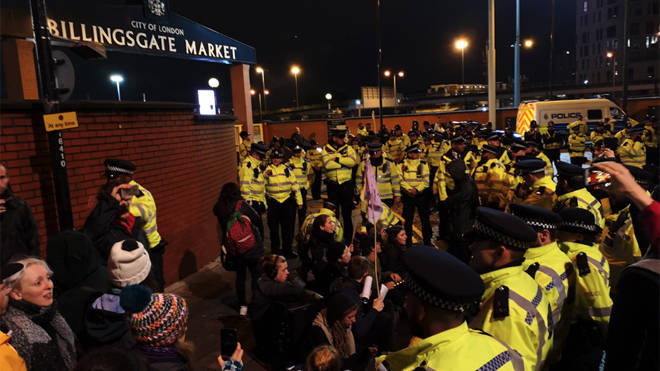 Animal rights protesters descended on London's famous Billingsgate Fish Market this morning in an effort to carry out a "non-violent protest" against the fishing industry, saying it is "destroying and pollution the oceans' ecosystems."
A large group of protesters targeted the market in the early hours of today, with one activist locking himself to the gates, stopping vehicles from being able to enter.
According to animal rights group Animal Rebellion, several of their number had been arrested and police had blocked them from approaching the market.
The group says it aims to "end the animal agriculture industry."
The group's spokesperson, Alex Lockwood, said demonstrators stopped traffic entering the fish market and that one protester locked themselves to the entrance gate.
He claimed 28 people had been arrested as of 7.45am, and that the majority of protesters had since left the area. The figure was not immediately confirmed by police.
A photo posted by the group shows a woman being carried away by three police officers and is accompanied by the caption "Mass Arrests at Billingsgate".
The group posted online: "Our rebels are still here at Billingsgate market and aren't leaving unless it's by getting arrested."
Mr Lockwood said around 200 people took part in the demonstration and gathered at Montgomery Square in Canary Wharf at 2.30am before moving down to the market.
He said: "One protester got inside [the market] and locked himself to the entrance gate.
"It meant they had to shut down the site and police then moved in.
"We then sat down, which was obstructing traffic, and so they started arresting us."
Video from the scene showed protesters singing while confronted by a line of police officers.
Billingsgate Fish Market in Poplar is the UK's largest inland fish market.
As of Friday night there had been 1,237 arrests in connection with the ongoing Extinction Rebellion protests across London, the Metropolitan police said.