Protests against LGBT lessons resume outside Birmingham primary school
13 September 2019, 19:57
Protesters who are campaigning against children being taught "it's okay to be gay" have resumed their picket outside a Birmingham primary school.
Organiser Shakeel Afsar claimed many parents at Anderton Park School in Sparkhill were planning to remove their children from the establishment over the faculty's stance on teaching.
He has been leading the campaign in a bid to stop the school telling its pupils that it is "okay to be gay."
School headmistress, Mrs Hewitt-Clarkson, called the protests "shameful", and confirmed they had returned to her "beautiful little school."
So far, she has received support from MPs, teaching unions and Birmingham City Council.
Speaking during previous protests before the summer holidays, she said: "I want the Department of Education and the Prime Minister to tell the British public who is in charge.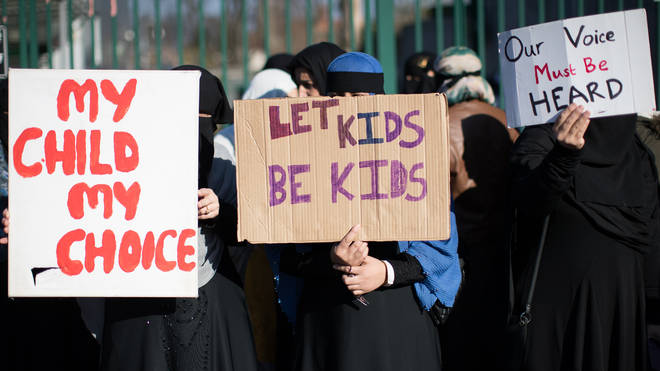 "Is it the British law, and the British government and the British Prime Minister, or is it a group of people stood outside a primary school saying you can't tell my kid it's all right to be gay. Who is it?"
When asked about the protests starting again, a spokesperson for the Department of Education said: "The Education Secretary has been clear that there is no place for protests outside of schools. It is frightening to children and disrespectful to hard working teachers.
"We encourage parents to talk to their child's school in a calm and constructive way if they have concerns about the new curriculum - protests are not the way to resolve them.
"We are making relationships education compulsory in all primary schools from 2020 – because it is important that children know that there are many types of relationships. However, what is taught and how is ultimately a decision for schools."