Shoppers miraculously escape huge metal roof blown off building on UK high street
14 January 2020, 20:26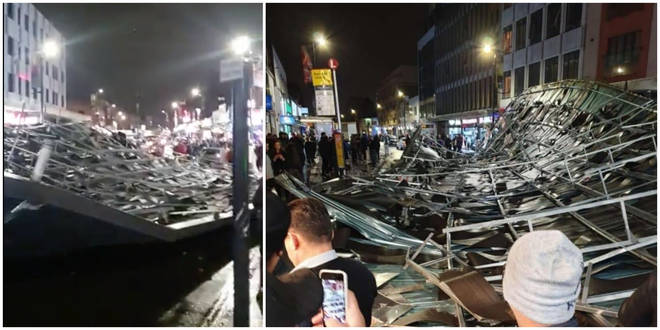 Shoppers have miraculously escaped being injured by a roof which was blown off by Storm Brendan in Slough.
Emergency services were called to the scene shortly before 6pm this evening after the huge metal structure crashed to the ground.
Footage posted on social media shows the large structure blocking part of the High Street in Slough after it was blown off a building, which is believed to be both residential and commercial, on Tuesday.
Paramedics have confirmed nobody was injured.
Three fire engines have been deployed to the area to help with the clear-up.
South Central Ambulance Service said: "We are at Slough High Street with Thames Valley Police, Royal Berkshire Fire and Rescue Service and Slough Council.
"A roof from a block of flats has been blown across the road which is now closed.
"Fortunately, no injuries currently and final checks being undertaken to confirm no one is under the debris."
Part of the high street has been closed while the wreckage is cleared.
A statement from the council posted on Twitter said: "We are aware of the incident in Slough High Street and specialist officers are on route to assist emergency services.
"Please avoid the area if at all possible and take note of road closures."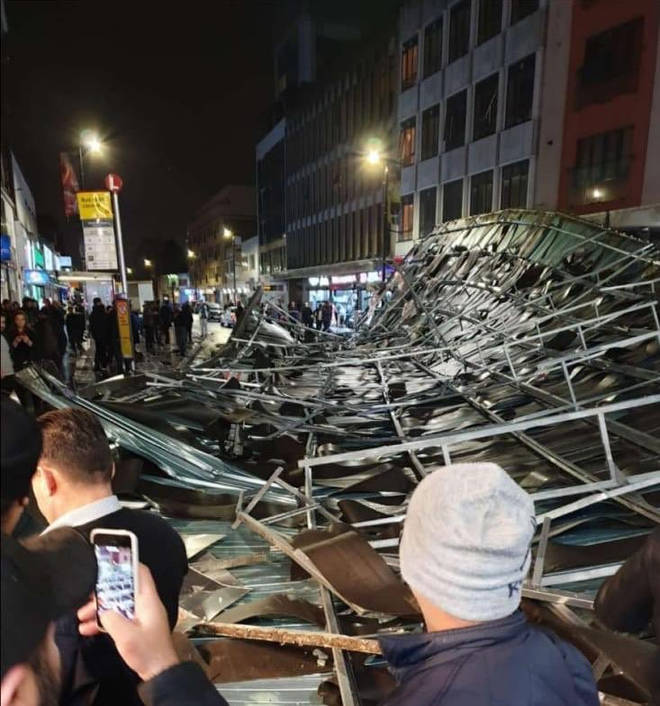 The council asked members of the public to "please be patient" due to heavy congestion in the area.
Weather warnings remain in force across the UK after Storm Brendan battered the country with winds of nearly 90mph on Monday.
A second low-pressure front brought further high winds to much of England and Wales on Tuesday, with the Environment Agency warning strong winds, high tides and large waves could lead to flooding.
The high winds forced airlines to divert flights scheduled to land at Gatwick Airport, while also causing disruption to ferries and railways.