Stop HS2 campaigner dresses as tree at Tory Conference to protest railway plans
30 September 2019, 17:46
A Stop HS2 campaigner shared his environmental concerns of the proposed high speed railway plans by dressing as a tree at a protest in Manchester.
A group of Stop HS2 campaigners took to protesting in St Peter's Square, outside Manchester Central Library.
Their protest tied in with the Conservative Party Conference, which takes place in the city this week.
Joe Rukin, campaign manager for Stop HS2 told Global's Newsroom: "We're here to highlight the damage that HS2 Limited is preparing to inflict on ancient woodland and habitats up and down the country.
"[This is] despite the fact that the Transport Secretary Grant Shapps has been assured that work will not take place during the ongoing review in irreplacable ancient woodlands."
Pointing at his tree costume, Mr Rukin added:"You can't miss me."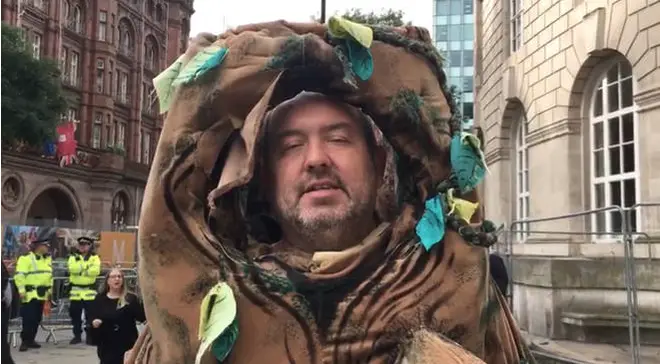 HS2 is intended to link 21 destinations: Birmingham, Birmingham airport, Carlisle, Chesterfield, Crewe, East Midlands, Edinburgh, Glasgow, Leeds, Liverpool, London, Manchester, Manchester airport, Newcastle, Old Oak Common in London, Oxenholme, Penrith, Preston, Sheffield, Warrington and York, on a mixture of existing and new high-speed track.
However the plans are considered very controversial by campaigners such as Stop HS2, the national grassroots campaign against the proposed new High Speed Two railway.
The group seeks to facilitate local and national campaigning against High Speed Two to persuade the Government to scrap the planning proposals.
Stop HS2 says on its website that HS2 is "over budget and behind schedule" and that "opposition to the project is continuing to increase, due to the poor economic case, the dire effects on the environment, and the multiple better ways of spending the money earmarked for HS2."
On 21 August 2019, the government announced that it was commissioning an independent review of the project, overseen by the firm's former chairman Douglas Oakervee.
Mr Oakervee's review will analyse whether and how the project should continue.
The final report will be completed in the coming months and will inform the Government's decisions on next steps for HS2.
Grant Shapps published a report by HS2 Ltd chairman Allan Cook which warned the final phase of the railway may not open until 2040 and the project could cost £88 billion based on 2019 prices.