Storm Ciara: RNLI lifeboat nearly capsizes after being called out to help surfer
10 February 2020, 12:30
This is the nail-biting moment an RNLI lifeboat almost capsizes as the crew race to rescue a surfer who tried to catch some waves during Storm Ciara.
The footage shows a huge wave knocking the boat on its side as it tries to hurry through the water in a desperate attempt to save the stricken man.
Paul Hogg, who captured the terrifying moment on tape, tweeted the video with the caption: "Brave boys from RNLI off out to rescue some idiot surfer off Hastings in Storm Ciara.
"Come home safe boys."
Another witness said the rescue helicopter could be seen overhead.
While a third shared a video claiming to be the surfer in question being thrown about in the choppy waters.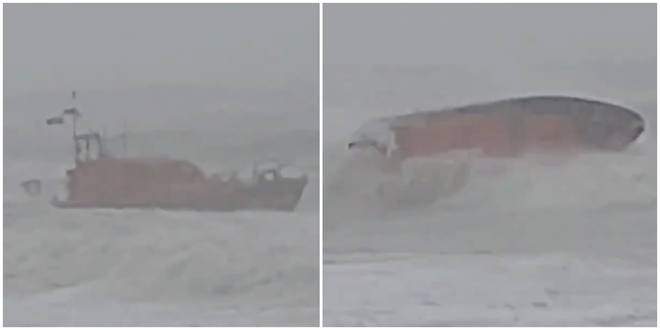 Thankfully, the surfer was rescued and the vessel itself escaped unscathed.
All-weather RNLI lifeboats are designed so they do not capsize in rough weather, and in the event they are tipped over by rough seas they will instantly right themselves.
A spokesperson said: "We're happy to report that we're all safe, well and uninjured and the boat is undamaged and safely berthed next to RNLI Eastbourne.
"We're on our way back to Hastings now."
Storm Ciara has battered Britain over the weekend, and so far one person has died due to the extreme weather.
The 58-year-old man, who has not yet been named, was killed when a falling tree crash into his car while he was driving home in Micheldever, Hants at around 4pm yesterday.
Britain was battered by 100mph winds yesterday as the storm made landfall with some areas experiencing widespread flooding as they experienced a month and a half's rainfall in just 24 hours.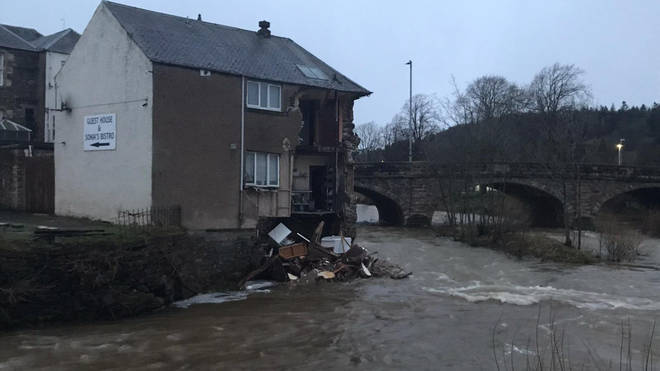 Thousands were left without power as authorities scrambled to rescue people from flood-hit areas, and drivers faced treacherous conditions with floodwater, fallen trees and other debris closing roads.
Helen Roberts, a senior meteorologist at the Met Office, said that Storm Ciara threatened to be the worst this century, rivalled only by the 19th December 2013 storm that caused widespread power cuts.
"It's definitely the biggest storm in seven years and in terms of area affected it's probably the biggest this century," she said.